It's story telling time and Teacher Fiona gathers the children around in front of her. Before she opens up the book, she asks the children what they can see in the front cover of the book and little hands immediately shoot right in the air.
"A Blue Horse!" a boy shouts. "A unicorn?" another girl answers.
Even before the story is told, the children are already having a brief idea of what the story might be about. After a series of questions, Teacher Fiona flips the first page open and begins narrating. With their eye peeled to the book, the children eagerly wait as the story unfolds in front of them…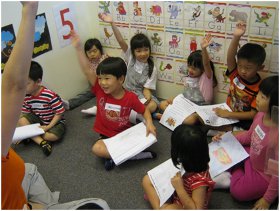 Who doesn't love a good story?
Children are great fans of stories and love to listen to all sorts of stories. Not just a great activity of leaning, storytelling is an art form that has immense cognitive, social, educational and creative benefits on children. Learning new vocabulary, better listing skills, greater capacity thinking, gaining general knowledge – these are just a few benefits of storytelling. Being new to the world, stories are very much information to children.
Besides flexing your child's imagination muscles and language acquisition, LEAP SchoolHouse Literacy Jive Holiday programme is aimed at unraveling your child's linguistic talents and nurturing your child's love for learning. The other holiday programme, Amusant in Learning, is a holistic programme which aims to immerse your young ones to a range of activities that will engage, enrich and tickle their curious minds.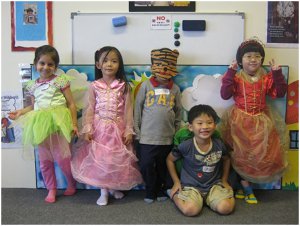 In both holiday programs, storytelling sessions are conducted where children are immersed and exposed to all kinds of stories told by experienced LEAP teachers. The story sessions will also include follow up activities such as art and craft projects, where children can translate what they have learned through art.
As much as we need to expose children to stories, we also need to remember to children to share their own stories. Asking them to narrate a possible climax or encourage them to share a story helps them in their confidence and speaking skills.
So, what stories have you told or heard from your child today?
LEAP SchoolHouse November/December Holiday Programmes 2011
Literacy Jive Workshop
Date: 28 Nov to 2 Dec 2011
Duration: 3 / 5-day options
Time: 2.00 pm to 5.30 pm (Monday – Thursday) 9.00 am to 12.30pm (Friday)
Age: 4 to 6 years old
Amusant Learning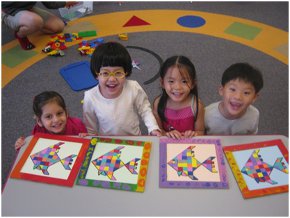 Workshop 1: 21 to 25 Nov
Workshop 2: 05 to 09 Dec Classes/week: 3 / 4 / 5-day options
Time: 9 am to 1 pm
Age: 4 to 6 years old
*For hygiene reasons, all kids are to bring their own socks or entry will be declined with regret. Socks are available at $2 a pair.
If you wish to find out more on LEAP SchoolHouse holiday programmes, feel free to contact LEAP SchoolHouse at 634 0828 or email them at contact@leapschoolhouse.com.sg
By Michelle Ang