This June school holiday, Liang Court celebrates Kodomo Fiesta (Children Fiesta) from 22 May to 27 June 2015. There will be a series of exciting events and activities – Hello Kids Market, Traditional Japanese Games Carnival, Family Obstacle Race and Taiko Competition – to keep parents and children engaged and entertained!
Hello Kids Market
13 & 14 June, 11am – 6pm, Level 1 Atrium
Children and teenagers, from 4 to 18 years old, will be setting up sales booths to showcase and sell interesting products and pre-loved merchandise. The experience of manning sales booths allows both local and expat children to pick up entrepreneurship and have a weekend of memorable fun and activities at Liang Court!
While parents browse the sales booths, children can stay occupied with any one of the following enriching workshops:
(I) Umbrella Drawing (ages 4 – 12 year old)
Unleash the children's imagination as they create their very own uniquely designed umbrellas on 13 June! Participation is free but pre-registration is required via hellonet@comm.com.sg.
(II) Taiko (Japanese Drum) by Hibikiya Group (ages 4 – 12 year old)
Children can indulge in the traditional Japanese drum performance and workshop on 14 June. Participation is free and registration is done onsite on event day.
(III) Paper Cutting Craft (ages 4 – 12 year old)
For children who are passionate about the Arts, they can sign up for the paper-cutting workshop by poco a poco studio on 14 June! Participation is free but pre-registration is required via hellonet@comm.com.sg.
Shoppers can also look forward to an exciting line up of stage performances by children! On 13 June, there will be Japanese kids' dance performance and magic show! Look out for the Karate Kids and interactive stage games as well as balloon sculpting on 14 June!
Traditional Japanese Games Carnival
15-19 June & 22-26 June, 11am – 8pm, Level 1 Atrium
Back for the 4th consecutive year, look forward to our Games Carnival featuring authentic Japanese carnival games played across Japan such as Ball Scooping, Shooting Game, Yoyo Fishing and new this year, Ping Pong Toss!
Japanese animation character masks such as AnPan Man, Hello Kitty, Pokemon, Doraemon will also be on sale. Sale of ice cream and candy floss will also be available to satisfy the sweet tooth in everyone!
Carnival tickets are sold onsite at $3 per coupon or $10 for 4 coupons.
Family Obstacle Race
20 & 21 June, 1pm – 5pm, Level 1 Atrium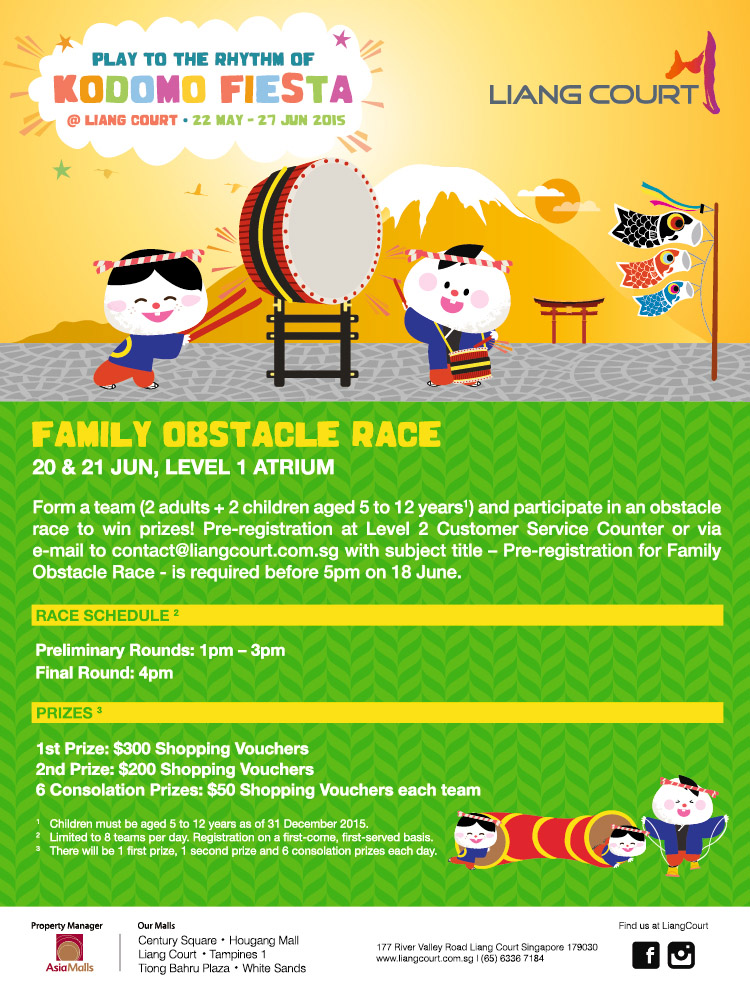 Calling all parents and children! Form a team (2 adults + 2 children aged 5 to 12 years) and participate in our Family Obstacle Race to win fantastic prizes. There will be 8 teams each day and the top 2 winning teams will walk away with $300 and $200 shopper vouchers respectively. The remaining 6 participating teams will receive $50 shopping vouchers each team too.
Pre-registration at Level 2 Customer Service Counter or via e-mail to ap@liangcourt.com.sg with subject title – Pre-registration for Family Obstacle Race – is required before 5pm on 18 June.
Taiko Competition
27 June, 2pm – 5pm, Level 1 Atrium
This year, Liang Court is organising our inaugural Taiko Competition to introduce Japanese culture and their performing arts. Enjoy the inspiring rhythms of Taiko as 5 schools – Chestnut Drive Secondary, Hwa Chong Institution, Jurong Secondary, St. Andrew's Secondary and Tanglin Secondary – compete for your applause and prizes!
The schools and their participants stand to win the following prizes:
Schools
1st Prize : $3,000 Cash
2nd Prize : $2,000 Cash
3rd Prize : $1,000 Cash
Individuals (Group of 4 to 6)
1st Prize : $500 Cash for each participant
2nd Prize : $300 Cash for each participant
3rd Prize : $200 Cash for each participant
Share your snapshots on Instagram with #Liangcourt and redeem $10 shopping vouchers by showing your post to our Customer Service Officers at Level 2. Limited to the first 50 shoppers.
With so many exciting events and activities at Liang Court, this June holiday will be THE holiday that all parents and children can look forward to!
Click here for a larger view