June Holiday has begun! Why not kick start the holiday season by heading down to Singapore's most exciting children's education and enrichment event? We round up 8 reasons why you should visit The Kidz Academy, happening on 6 – 8 June 2014 at Suntec Convention Centre.
#1. The search is on! Enrichment Exploring
Looking to enrich your child? With an expected 95 renowned exhibitors, you are almost guaranteed to find the perfect course for your child! From Arts, Mathematics, English to Yoga and Music, there's a wide range of holistic programs for you to choose from.
Don't miss this opportunity to explore the various education and enrichment options all in one place!
Want to find out more about their programs and give it a try? Not a problem. There are free trial classes available for the family. Which brings us to our next reason…
#2. Give it a try: Free Trial Classes
Want to enroll junior in music class but not sure if he likes it? There will be a series of free trial classes to try out from the various education and enrichment centres. Some free trial classes you can check out are: "Excelling in Composition Writing" by Creative Campus, "Learn to play the Ukulele in 5 mins" by Ossia Music School, "Kids Yoga Trial Class" by OhmSantih Yoga and more!
Besides picking up useful tips from the professionals during the trial classes, you can also observe your child's performance on the spot, to see their interest and needs, and make a more informed decision.
#3. Let's Play! Kids Carnival Bonanza
With a 300-metre feet area specially dedicated to fun and games, you don't have to worry about your child getting bored! While you are busy shopping for the great deals and hunting for the best enrichment programs, your little ones will be entertained at the giant bouncy castles, carnival rides and game stalls.
#4. Is That Bob The Builder? Meet and Greet Sessions
Instead of watching them behind the television screens, your child will now get to meet his or her favourite cartoon characters up close in person! Keep a lookout for Bob the Builder on Friday, Angelina Ballerina on Saturday to Fireman Sam on Sunday. Get your cameras ready!
#5. Be Enriched and Educated: Learn New Tips On Educating Junior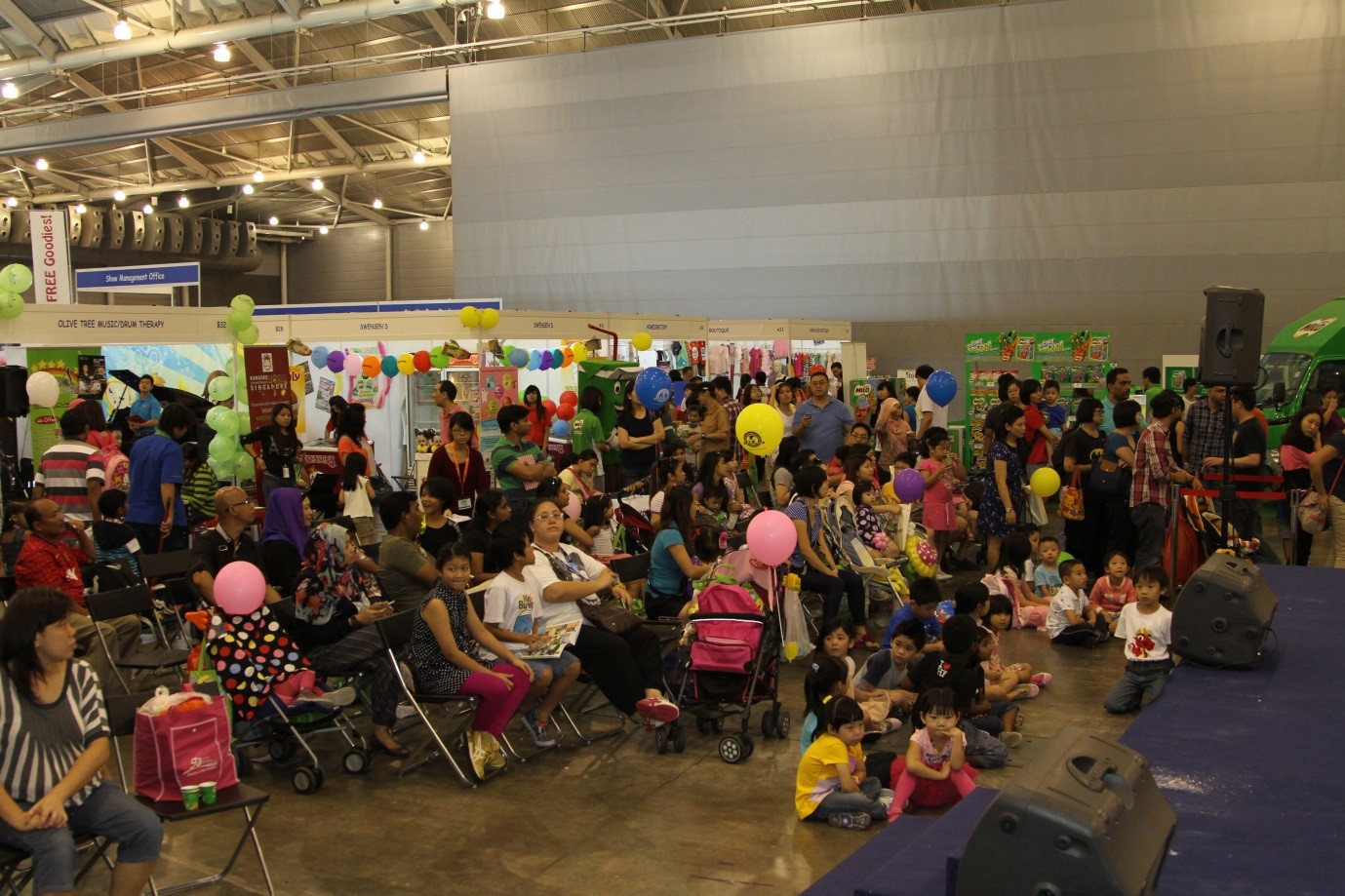 The learning never ends, even for parents. A wide range of talks will be catered just for parents. Happening only on 7 June! Some of the topics include:
The 7 Highly Essential Nutrients for Picky Eating Children
Raising your child holistically – The MI Way!
Enhancing Writing Skills
Ergonomics for kids
Making Music – is it really All & Only about The Mozart Effect?
Making the Learning of Mathematics Fun and Meaningful!
The talks are free of charge but registration is on a first-come-first-served basis.
Note: Talks are subject to changes without prior notice. All Talks & Workshops will be held at Room 300 on Suntec Singapore Level 3.




#6. Freebies Galore
1,500. That is the number of goodie bags that will be given out during the three days. Before you can receive your goodie bag, you have to pre-register and be one of the first 500 pre-registered visitors on-site! Do be there early too as the giveaway begins at 11am.
Here's a sneak peek at the premiums in each goodie bag:
FREE Stationery Set
PastaMania FREE Kid's Meal Voucher (worth $8.80)
Swensen's 20% Discount Voucher
Quaker's Oats for Rice (600g) (worth $5.35)
4 FREE SPH Magazines
Young Parents 3 Months Digital Subscription
FREE Wei-B Strawberry Pack
#7. Sweet Treats
I scream for ice cream. Head over to Swensen's Booth at A25 for free ice-cream! Only limited to the first 1,000 people daily. Then hop over to Party Hut at Booth A23, for free Piñata fun! Only happening at 12pm and 4pm daily, limited to the first 10 children during each timeslot.
#8. Win Big
Watch out for big prizes at the bi-hourly lucky draw, happening at 3pm, 5pm & 7pm daily. All you have to do is drop the lucky draw coupon at the cover of this event guide at the Show Management Office 10 minutes before the draw and stand a chance to win fantastic prizes. Who knows? Lady luck might just be on your side this time.
So mark these dates down!
The Kidz Academy, Nurturing Young Minds
Date: 6 – 8 June 2014
Time: 11am – 9pm
Venue: Suntec Singapore Convention & Exhibition Centre Hall 403 & 404
Website: www.thekidzacademy.com.sg
Want to be heard and seen by over 100,000 parents in Singapore? We can help! Leave your contact here and we'll be in touch.