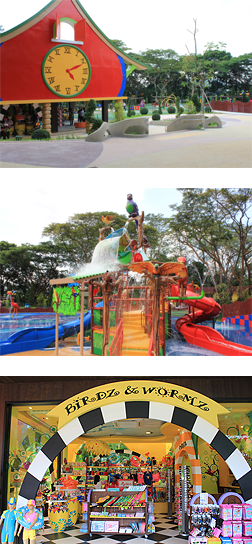 The world's largest Park for birds is now home to Singapore's newest children's playground! Birdz of Play at Jurong Bird Park is the only place in Singapore where kids of all ages can get wet and wild amidst a colourful avian paradise.
Designed with children, fun and colour in mind, Birdz of Play is decorated with vibrant bird motifs of all shapes and sizes liberally placed all over the play area. The 9,700sqm playground unique features include wet and dry zones for both toddlers and older children.
Toddlers who enjoy frolicking in the water in this tropical heat, can have hours of fun just going over and under water sprays; getting splashed by a "Flamdingo"; and catching the little water sprouts at the Dandelion Dome. Older kids can hold mock water fights by squirting each other with the "Little Sqwerts Fish and Duck". They can also ride the fun slides, and get a tremendous soaking under the overhanging, tipping bucket at the splash zone.
Over at the dry area, young kids can explore two-seated see-saws, swings and slides, which feature sensory elements that will invoke a child's intellect, hearing and sight. Older children can also challenge and test their upper body strength and agility by taking a ride at the Disc Challenge and the Flying Fox sections.
What's more, the park is also organising a series of wholesome programmes for the entire family at Birdz of Play all through December! These weekend activities include 'egg-citing' creative art and craft stations to a celebratory Hatch Day Party.
For more details, log on to their website