Genre: Epic Action-Adventure
Cast: Chris Pratt, Bryce Dallas Howard, Toby Jones, Ted Levine, Rafe Spall, BD Wong and Jeff Goldblum
Directed by: J.A. Bayona
Written by: Derek Connolly & Colin Trevorrow
Ratings: Rated PG13 – Some Violence
Release Date: In IMAX® & 3D Cinemas 7 June 2018
Based on Characters
Created by: Michael Crichton
Produced by: Frank Marshall, Patrick Crowley, Belén Atienza
Executive Producers: Steven Spielberg, Colin Trevorrow
It's been three years since theme park and luxury resort Jurassic World was destroyed by dinosaurs out of containment. Isla Nublar now sits abandoned by humans while the surviving dinosaurs fend for themselves in the jungles.
When the island's dormant volcano begins roaring to life, Owen (Chris Pratt) and Claire (Bryce Dallas Howard) mount a campaign to rescue the remaining dinosaurs from this extinction-level event. Owen is driven to find Blue, his lead raptor who's still missing in the wild, and Claire has grown a respect for these creatures she now makes her mission. Arriving on the unstable island as lava begins raining down, their expedition uncovers a conspiracy that could return our entire planet to a perilous order not seen since prehistoric times.
With all of the wonder, adventure and thrills synonymous with one of the most popular and successful series in cinema history, this all-new motion-picture event sees the return of favorite characters and dinosaurs – along with new breeds more awe-inspiring and terrifying than ever before. Welcome to Jurassic World: Fallen Kingdom.
---
Stand a chance to win the grand prize of 1 x movie hamper and 4 x premiere tickets to JURASSIC WORLD: FALLEN KINGDOM! Six other winners will walk away with a movie hamper each.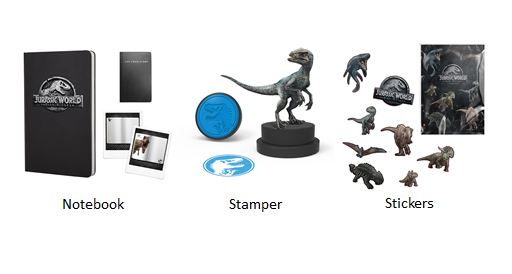 Grand prize (1 winner):
4 x tickets to the premiere screening
1 x sticker sheet
1 x character stamper
1 x notebook
Consolation prizes (6 winners). Each set consists of:
1 x sticker sheet
1 x character stamper
1 x notebook
Details of Premiere Screening
Date: 5 June 2018
Time: Movie starts at 6.50pm
Venue: Shaw Theatres Lido
To take part in the giveaway, follow the steps below:
1. Like and Follow us on Facebook or Follow us on Instagram.
2. Join at least one of our Facebook Groups below:
3. Simply watch the trailer, complete the following sentence correctly and fill in the form:

The giveaway has ended.
4. Like and Share (set to public) this Facebook post.
Giveaway ends 3 June 2018.
Important notes:
Winners will be notified via phone and email.
Grand prize winner will get a set of movie hamper and 4 x Jurassic World: Fallen Kingdom premiere tickets.
Grand prize winner will have to self-collect the tickets & hamper on 5 June 2018 at Shaw Theatres Lido from 6pm onwards. Tickets & hamper not collected by 7pm on the event day will be forfeited, no exchange or replacement will be provided.
Consolation prize winners will have to self-collect the movie hampers from New Age Consulting office at Tradehub 21 during office hours.
Winners are required to produce their NRICs during prize collection.
© 2018 Universal Studios.
Terms and conditions apply. Please also read our Privacy Policy.
For more contests and giveaways, go to The New Age Parents Contest Page