Mr Satoru Saito is the General Manager and Chief Researcher of Breastfeeding Laboratory, Pigeon Corporation R&D Center in Japan, and Chief Investigator on Infant Behavioural Development and Mothers' Nursing Behaviours. Married to a Clinical Accounting Personnel with two daughters aged 10 and 16, we asked Mr Satoru Saito a few questions about breastfeeding and how fathers can help their wives in their breastfeeding journey.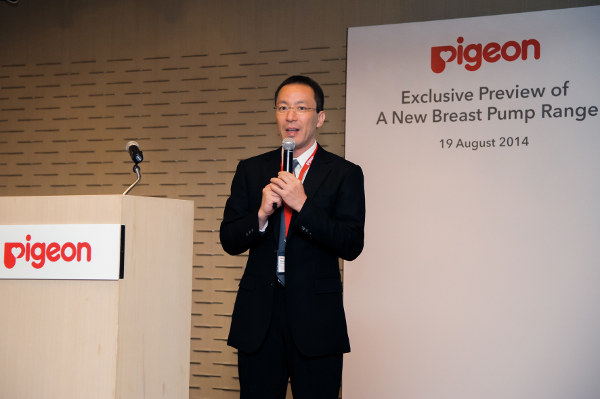 You recently conducted a study among breastfeeding mothers on different races in Singapore. Can you share more about these findings and how they were crucial in determining the ideal design of the new PIGEON breast pumps feature?
Breastfeeding mothers across the races have a nipple diameter between 14 to 16mm which is also assumed as the universal average. This is helpful information when designing breast pumps and nipple shield. The findings also revealed that there are differences in the diameters between races and also within the race. Some mothers have larger nipple diameter while some have smaller. This is an important finding which we cannot ignore. As a result, Pigeon, true to its commitment to cater to the needs of mothers, decided that we need to produce pump funnels in two sizes: regular (23mm in diameter) and large (27mm in diameter).
Are there any differences between the breastfeeding behaviours of mothers in Japan and in Singapore and any differences across the different races here in Singapore as well (i.e. Chinese, Caucasians, Malays, Indians etc.)
Mothers in Singapore, China and Malaysia have to go back to work three or four months after delivery, and they will have to pump breast milk for their babies. In Japan, most of the mothers are entitled to one-year of maternity leave which means they do not need to pump breast milk after they return to work. In Japan, the main reasons to use breast pumps are to reduce breast engorgement and to express the remaining breast milk after breastfeeding when infants do not empty the whole breast. The purpose of using breast pumps is different among the cultures.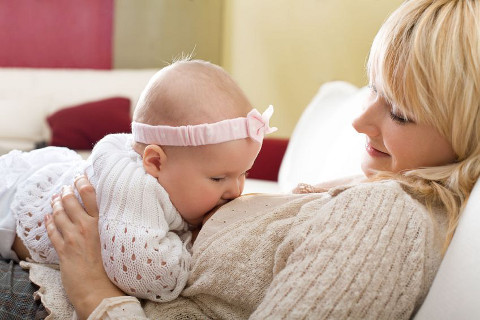 PIGEON recently released three new breastfeeding pumps for mothers. How do the new features in each of the pumps assist mothers to express and store milk with ease?
The new manual pump is designed with the "gentle stimulation" function which enables mothers to stimulate the breast as the pump is able to mimic a baby's natural sucking rhythm that sends a milk 'let-down' signal to the breast to initiate milk flow.
The new portable pump is also designed with the gentle stimulation function and customisable pumping which provides varying levels of suction power, giving mothers the option of expressing milk in a shorter time.
Also designed with the gentle stimulation function, the new Electric Breast Pump Pro offers customised pressure and speed pumping which allow mothers to choose from a suction strength dial with 7 pressure level settings and 4 suction speed. This will help mothers to find out their favourite combination out of 28 choices.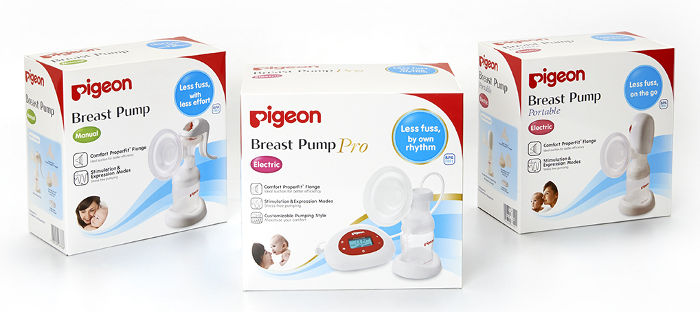 What is the ideal age mother should start and stop breastfeeding their babies?
I don't think there is any ideal age a mother should start to breastfeed. If breast milk is produced in the body, it is time to breastfeed. Regarding the age of babies, mothers can breastfeed until their babies are about 24 months old, which is also about the time when babies start weaning off breast milk. However, this does not mean mothers should stop breastfeeding suddenly when babies are interested in proper food.
Being a father yourself, how can fathers help their wives in their breastfeeding journey?
"Fathers can breastfeed." Fathers can assist by feeding their babies with the expressed breast milk using feeding devices such as cups and bottle-teats. Every mother knows it is not easy to breastfeed during midnight and mothers need sufficient sleep. Hence, fathers can really help mothers to sleep well during midnight by feeding the baby with the pumped breast milk.
What is the most important thing mothers should note when they are breastfeeding their baby?
To be relaxed. If mothers try to maintain 100% direct-latch-on breastfeeding, it will inevitably make them exhausted. Mothers need to be relaxed and enjoy the breastfeeding process with her husband, who can also "breast feed" by feeding the baby breast milk that has been pumped.
What is the common mistake you often see when it comes to breastfeeding?

Some of them think that 100% exclusive direct-latch-on-breastfeeding is considered "real breastfeeding" but I don't think that is true. I believe breastfeeding is not only what mothers have to do, but something the whole family can do and enjoy together. As mentioned, fathers can "breastfeed" too, and breastfeeding should be a family issue, and this is where mothers can get the support they need.
One little known fact about infants when they breastfeed from their mothers is…
When a baby is latched on to the mother's nipple, it is not like sucking liquid from a straw but it is like a unique tongue movement which generates vacuum power. An adult cannot move his / her tongue in the way a baby can.
My best tip to first-time breastfeeding mothers is…
Breastfeeding should not just be a mother's responsibility. Don't be afraid to ask her husband and friends for support. Be relaxed, and breastfeeding with your child will be a more enjoyable process.
Join the Breastfeeding with Love Group to find out more and be part of our breastfeeding online community!
Click on the logos to find out more about our supporting partners.
If you find this article useful, do click Like and Share at the bottom of the post, thank you.
Want to be heard and seen by over 100,000 parents in Singapore? We can help! Leave your contact here and we'll be in touch.