A performer, maker, teacher, and speaker, Caroline Bowditch is a multi-hyphenate.
Despite being born with a disability, she has choreographed and performed in many shows in the UK and shows no signs of stopping.
From May to June, Caroline will be in Singapore for the 100 and 100 More Festival by The Artground (located at Goodman Arts Centre) from 25 May to 3 June 2018.
Before catching her in action, we find out what her journey was like as an artist, and her inspiration behind creating Snigel and Friends, a performance just for babies.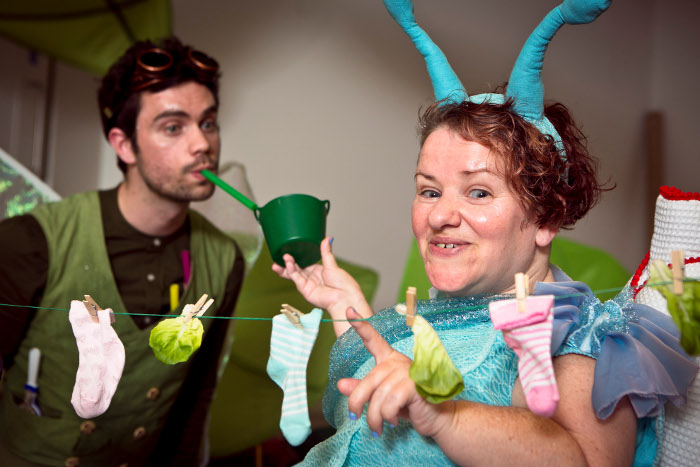 When was the first time you knew you wanted to be a dancer, and how did your parents react to it?
When I was young I wanted to be either a dancer or an ice skater – not the natural choice for a wheelchair user. Music was very important in our house when I was growing up and I'd always danced but I don't think I ever really imagined doing it as a profession.
What do you love about dancing and how long have you been dancing?
As a performer and dancer, I love having the opportunity to tell stories that I feel need to be told, often told by dancers on stage with bodies that might be unexpected.
What was your most memorable performance as a dancer?
In 2016 I had the opportunity to take our Award-winning show Falling in love with Frida to Australia. As part of our tour we performed the show in the carport (the concrete space where cars are usually parked) on my family's farm where I used to make up dances from a very young age.
Over 50 people from this very rural community came to see the show, many of whom had known me for all my life but had never seen me perform, and they loved it.
What are common misconceptions people have about you as a dance artist with disability?
Lots of people are very puzzled about how exactly I dance as a wheelchair user. Our concept of who dances is still very limited and rigid. If people can't get their heads around it, they may watch the video below.

What are myths that people have about your disability?
I have been described as 'tiny' in a review in the past. People do sometimes comment on my size but few know that I could break my bones at any stage due to the nature of my disability. I live in a very unpredictable body but we all do really.
Have there been times where you have been rejected to dance because people only saw your disability? How did overcome these situations?
I think I've avoided lots of rejection by making my own work rather than trying out for companies that can't imagine a diversity of bodies within their work. There is often a challenge with venues that are reluctant to book the work of more than one artists with disability in a season or a year – a bit like they are ticking boxes.
What are your strengths as a disabled dance artist? How did you tap on that as an artist? 
There are lots of different creative opportunities of being an artist with a disability and working with artists with disabilities that you don't get from artists who are able-bodied. Different ways of moving, different movement qualities, variety in where strength is in the body. There are so many different and more interesting avenues to explore when you have different bodies in the space.
Tell us more about the motivation and inspiration behind the show Snigel and Friends. Why did you decide to create a show for babies?
I had never made work specifically for children before but have always felt, as a successful disabled artist, it was important to reach younger generations with the positive messages around disability.
I was working in Sweden with Skånes Dansteater creating a show and they said to me 'Where are all the decent dance work with non-normative bodies?', which is a great question. So I set out to make one.
The idea of being a snail came from a red backpack that I used to carry all I needed with me when I was on tour, like a snail with a shell I had my home on my back. As a wheelchair user, I also don't have a footfall so I can glide through the space, like a snail!
We created two shows – first came The Adventures of Snigel which is an outdoor promenade show for an older age group (3 – 8 years) and then we created Snigel and Friends (0 – 1 year) where I am still a snail but I perform out of my chair, at a low level with the babies.
It is important to include children of all ages, and there is so little out there for babies but it is just as important for them. Not only for them but for their parents to have a positive and interesting interaction with people who have disabilities.
How did you conceive the idea for the show?
When I met my co-creator and designer of the show, Laura Hook, I spoke to her of the idea of transforming my motorised wheelchair into a giant snail shell so I could move through a crowd performing as a snail character.
Thankfully, she didn't run away. Instead, she was full of ideas and excited to work on a show for children. The piece we created was for outdoor festivals, The Adventures of Snigel, and is a promenade show for ages 3 – 8.
It went so well we continued to work together to make the show Snigel and Friends. This time I am out of my chair, but still a snail!
We made the show through lots of play and invited groups of children and babies into the space regularly, this meant we could see what age group was most engaged with the work and the piece I wanted to make.
It was important to me not to be in a closed rehearsal room, it was so valuable to draw on experiences of parents and babies to not only create the shape of the piece but to create the world which the audience comes in to.
How long have you been performing Snigel and Friends, and what countries have you performed at?
We first performed the show at the Dance International Glasgow Family day at Tramway in Glasgow in May 2017.
Since then we did a 4 week run at Edinburgh Festival, we have toured at various venues throughout Scotland and England. We also took the show to Skånes in Sweden.
To date, we have performed the show approximately 64 times, and still loving it.
Some parents may think that their babies are too young to sit through or understand a performance like this, what would you say to them?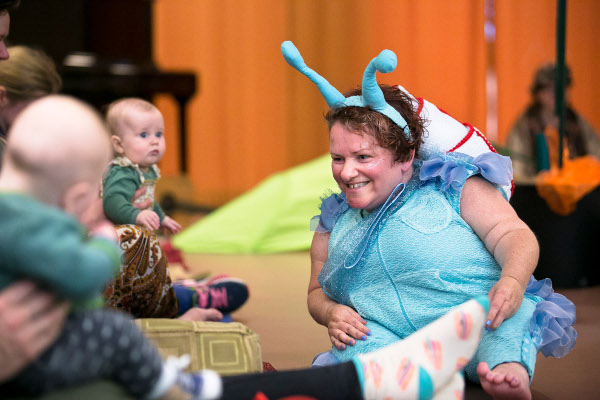 We have done this show many times now, to babies as young as 4 weeks old and the focus and attention on their faces during the show is magical.
There have been lots of studies showing the developmental changes in babies in their first year and the social, mindful and sensory experience we can give them in the theatre can have such a positive impact on those changes.
What were some of the unexpected or memorable reactions you had from parents or babies in the audience?
It's always quite unexpected when we get 'stage invaders' during the show but also quite fun.
When we were making the show we always wanted a child to come and sit on the platform next to me during the show and when we were performing in London that happened! And we were all really excited about that.
Just watching all their joyful smiles and giggles, some of the wonderful expressions of delight and intrigue. It is such a rewarding show to perform.
Complete this sentence, "A child is 100 and 100 more…"
… joyous than I ever imagined.
Caroline will be coming to Singapore to perform 'Snigel and Friends' at the upcoming 100 and 100 More Festival by The Artground. The show is catered for babies age 0 to 12 months old. The Artground is located at Goodman Arts Centre, 90 Goodman Road, Block J, #01-40.
* * * * *
Like what you see here? Get parenting tips and stories straight to your inbox! Join our mailing list here.
Want to be heard 👂 and seen 👀 by over 100,000 parents in Singapore? We can help! Leave your contact here and we'll be in touch.