SEE NATURE IN NEW LIGHT AT I LIGHT MARINA BAY 2017
i Light Marina Bay returns this March to set the Bay aglow with 20 sustainable light art installations taking centre stage at the Marina Bay waterfront. Running from 3 to 26 March, the fifth edition of Asia's leading sustainable light art festival will also feature, for the first time, three themed festival hubs framed to create a festive atmosphere for a comprehensive experience.
Held since 2010, i Light Marina Bay is a showcase of light art installations created by artists from Singapore and around the world. Installed around the Marina Bay waterfront, the light art installations are designed with energy-saving lighting or environmentally-friendly materials to reinforce Marina Bay's position as a sustainable precinct and serve as reminders to encourage festival goers and the general public to adopt sustainable habits in their everyday lives. The festival also features a range of fringe activities for visitors to enjoy, bringing vibrancy to the public spaces in the precinct.
Themed festival hubs with something for all
This year, the festival will see three distinct event hubs complementing the light art installations. Held at The Promontory @ Marina Bay, The Float @ Marina Bay and the Bayfront Event Space, the three festival hubs will be anchored respectively on themes of sustainability, imaginative play and lifestyle. Festival goers can look forward to sustainability themed workshops, children-friendly activities and a variety of food and beverage options.
The first of the festival hubs, The Fantastical World of eco.me organised by The Rice Company Ltd, will promote sustainable living in Singapore with highlights such as a recycling and upcycling marketplace, a kinetic energy playground and an urban farming showcase. Inspired by lessons taken from marine and flora life, this festival hub at The Promontory will take place over two weekends from 3 to 12 March and present thematic activities from immersive theatre performances to 'live' music, workshops and arts and crafts fair. In line with the sustainability theme, this sustainability-themed hub will involve students and community institutions in the construction of the furniture at the hub using 300 wooden pallets.
At The Float @ Marina Bay, families can visit Art Zoo, an inflatable playground in the setting of an imaginative zoological garden. The young and the young at heart can look forward to an immersive experience at the colourful playground with giant inflatable animal structures.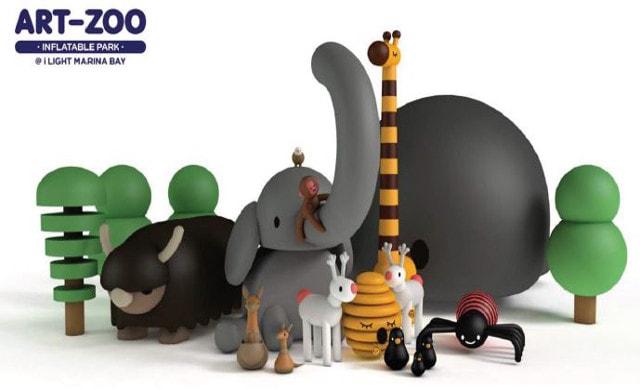 For food and music lovers, Gastrobeats at Bayfront Event Space will offer a host of delicacies and live music performances, among other activities.
Involving local students and community in spreading the message of sustainability
Driving home the message of sustainability are 20 light art installations that will remind the public of the importance of environmentally-friendly habits. Taking on the theme "Light & Nature", the light art installations invite the public to consider the relationship of light with nature and the city, and how light reconciles the push and pull between the constructed and the natural.
This year, the festival will see five light art installations designed by students from National University of Singapore, Nanyang Polytechnic, Singapore University of Technology and Design, LASALLE College of the Arts and Raffles College of Higher Education – the highest participation from local educational institutions to date.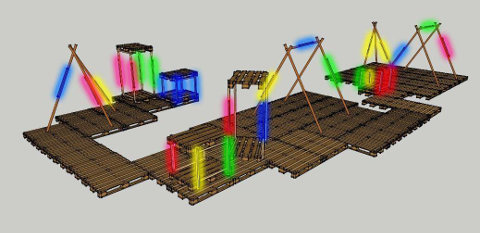 Relocating Locality by LASALLE College of the Arts (Singapore)
Students from LASALLE College of the Arts – participating for the first time – will be presenting Relocating Locality, an art work in the form of a series of interlocking pavilions. Made of wood and bamboo, the exposed raw and natural materials contrast with its surrounding polished urban environment as it juxtaposes against our cityscape.
Ocean Pavilion by Luke Jerram (UK)
Local students and the community will also be involved in the creation of Ocean Pavilion, an installation designed by Luke Jerram from the United Kingdom. Prior to the festival, 20,000 recycled plastic bottles will be distributed to schools and community institutions to attach onto structural sheets that will be assembled to form dome-shaped structures. During the festival, the structures will be lit from within with energy-efficient LED lighting to welcome the public to explore its interior.
Festival Director and Director (Place Management) of URA, Mr Jason Chen said, "At the heart of i Light Marina Bay is the topic of environmental sustainability to reinforce the position of Marina Bay as a sustainable precinct. We are glad to be able to involve our local community and younger generation to contribute to this meaningful festival. We hope everyone will enjoy the delightful light art installations and the variety of festival offerings around the Bay, and have a memorable experience."
A platform for international collaborations
Expanding its reach internationally, this festival will see a gathering of light art installations from nine countries, including Indonesia, France, Sweden, and the United Kingdom. For the first time, the festival will collaborate with overseas light art festivals – Amsterdam Light Festival in The Netherlands, Bella Skyway Festival in Poland and Scottsdale Canal Convergence in the United States – through the cross-sharing of four local and international light art installations.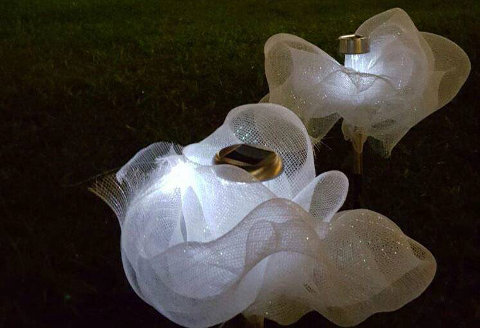 MoonFlower by Lee Yun Qin (Singapore)
As part of this collaboration, local artist Lee Yun Qin will present her work MoonFlower at the Scottsdale Canal Convergence next month. MoonFlower is a luminescent display of flowers, each powered by its own solar-powered LED light, inviting passers-by to take a walk through the garden in the dark.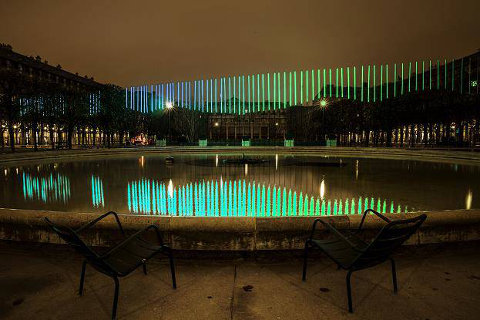 Northern Lights by Aleksandra Stratimirovic (Sweden)
Northern Lights – a star piece previously exhibited at Amsterdam Light Festival 2015 – 2016 – will also be showcased at i Light Marina Bay 2017. Inspired by the aurora borealis, the installation uses a carefully programmed light story performed on 100 vertically positioned light lines equipped with LED sources to emulate the elusive natural phenomenon.
Festival Curator and Principal Architect at Zarch Collaboratives, Mr Randy Chan said, "The artistic direction of the festival this year explores the relationship of light with nature and the city – a theme that aptly fits in with the backdrop of the garden city we live in. It is encouraging to see continued interest and participation from local and international artists and I hope the art work will inspire visitors to kick-start their personal sustainable journey."
i Light Marina Bay will open from 3 to 26 March 2017, 7.30pm to 11pm daily with an extension to 12.00mn on Fridays and Saturdays, around the Marina Bay waterfront promenade. Admission is free. Visit www.ilightmarinabay.sg for more information.
---
PasarBella & Friends Go to Town x i Light Marina Bay 2017
Date: 3 – 26 March 2017
Time: 5pm – 11pm (Sun-Thu) | 5pm – 12 midnight (Fri-Sat)
Location: Marina Bay Sands Event Plaza
PasarBella & Friends Go to Town returns for the third iteration of its special pop-up market in this year's annual i Light Marina Bay, Asia's leading sustainable light art festival.
Joining over 20 sustainable light art installations from around Asia and globally, PasarBella's curated selection of passionate traders from PasarBella's farmers market, PasarBella@TheGrandstand, and its second outlet at Suntec City come together under one enormous tent where a selection of signature dishes will be served.
An assortment of refreshments will be served by Drinks!, PasarBella@Suntec's drinks bar. Hungry and curious visitors will be satisfied with an appetising spread of festival grub, from luscious burgers and hot dogs, to hearty Mexican burritos and nachos to fresh seafood and tantalising roasted meats.
Come join us and have a leisurely stroll along the dazzling waterfront with your bites or chill out at the alfresco dining area with your friends and family!
For more information, visit www.facebook.com/PasarBella