i Light Marina Bay returns this March to set the Bay aglow with 20 sustainable light art installations taking entre stage at the Marina Bay waterfront.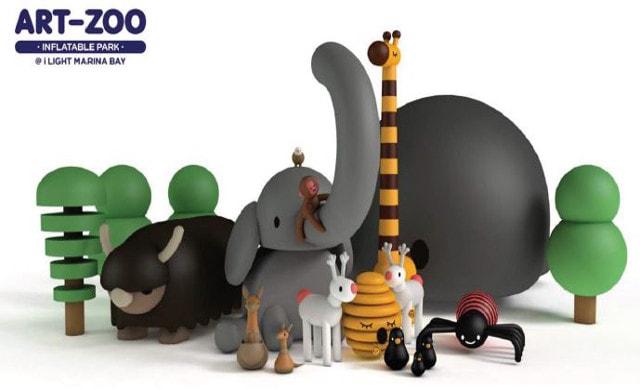 Running from 3 to 26 March, the fifth edition of Asia's leading sustainable light art festival will also feature, for the first time, three themed festival hubs framed to create a festive atmosphere for a comprehensive experience.
At The Float @ Marina Bay, families can visit Art Zoo, an inflatable playground in the setting of an imaginative zoological garden. The young and the young at heart can look forward to an immersive experience at the colourful playground with giant inflatable animal structures. For food and music lovers, Gastrobeats at Bayfront Event Space will offer a host of delicacies and live music performances, among other activities.
i Light Marina Bay will open from 3 to 26 March 2017, 7.30pm to 11pm daily with an extension to 12.00mn on Fridays and Saturdays, around the Marina Bay waterfront promenade.
See below for more information on Art-Zoo and Gastrobeats details and activities.
---
Art-Zoo
Daily, 3 – 26 March
Monday – Friday | 5pm – 11pm
Saturday – Sunday | 2pm – 11pm
The Float @ Marina Bay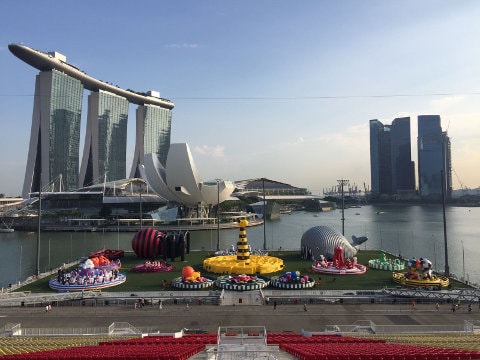 Art-Zoo is a culmination of an experiential inflatable playground and art installation in the setting of a zoological garden. From plants, animals, to ecosystems, Art-Zoo is a fun and immersive world that explores the nature through the perspective of art, creating an imaginative landscape that explores alphabets and animals. Art-Zoo stirs up wonder and curiosity in all of us through a very visual and interactive adventure. Find out more information on www.artzoo.sg
Early Bird Online Pre Sales from 1 February to 15 February 2017
Single $12 / person
Online sales from 16 February 2017
Single $13 / person
Group of 4 $50
Onsite at the door tickets
Single $15 / person
Group of 4 $54
www.apactix.com/events/detail/art-zoo-2017-inflatable-park
GastroBeats
3 – 26 March
Sunday to Thursday, 5pm – 11pm | Friday & Saturday, 4pm – 12am
Bayfront Event Space
Free admission

From 3 to 26 March 2017, join us at GastroBeats to Eat, Sing, Play and Repeat! Feast on gastronomic delights from Artisans such as Skewer Bar, Poke Theory and Starker.
Be dazzled by famous music acts like Scarlet Avenue, THELIONCITYBOY and Disco Hue. The popular Silent Disco also makes its debut at i Light Marina Bay, happening in the Marina Bay City Gallery!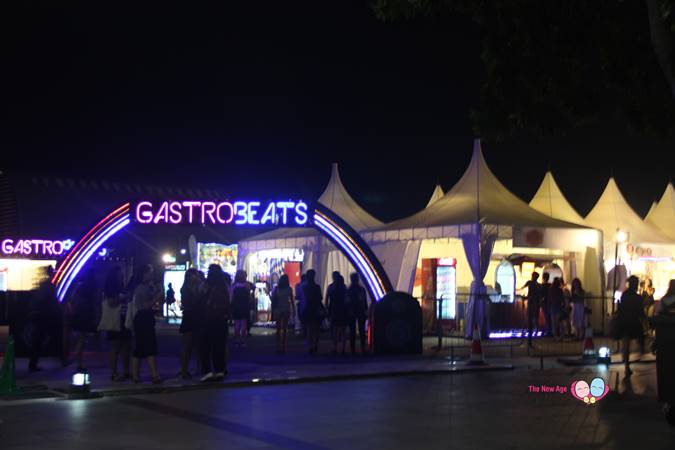 Look out for a specially curated carnival experience by Uncle Ringo, as well as interactive light installations by local and international artists.
PARTICIPATING PARTNERS OF GASTROBEATS
Community Drumming Circle
Sunday, 5 & 12 March
7.30pm – 8.15pm | 8.15pm – 9.30pm
Bayfront Event Space
The Community Drumming Network (CDN) based in Kallang Community Club promotes community togetherness through the playing of drums and percussion instruments. The CDN comprises between 12 – 15 active Drum Circles based in different CCs and Residents Committees (RC)s.
The Drum Circle is an all-inclusive activity which is based on the understanding that everyone can play and have fun making 'music' together.
Uncle Ringo
3 – 26 March
Sunday to Thursday, 5pm – 11pm | Friday & Saturday, 4pm – 12am
Bayfront Event Space
Free admission
A home-grown favourite with roots that run deep into local communities, Uncle Ringo is a name that is synonymous with good old fashioned fun. With a wide stable of carnival games and rides, join us for a fun and memorable night out with entertainment for all ages.
Nightbot Experience by Ninebot Asia
Daily, 3 – 26 March
Sunday to Thursday | 7.30pm – 10pm
Friday to Saturday | 7.30pm – 11pm
Bayfront Event Space
Experience the future of green transportation as you ride the Ninebot Robotic Transporter within a preset circuit at GastroBeats. Be thrilled by the technology when man and machine becomes one. Most people, if not all, learn to ride within minutes.
No throttle needed, no brakes needed, and if you prefer – yes, not even hands are needed!
Rent an Electric Personal Mobility Device by Ninebot Asia (a shared-ePMD pilot program)
Daily, 3 – 26 March
Sunday to Thursday | 7.30pm – 10pm
Friday to Saturday | 7.30pm – 11pm
Bayfront Event Space
Come down to GastroBeats @ Bayfront Event Space for a unique shared-ePMD experience – probably the first in the region, if not the world!
Explore and be dazzled by the light art installations and activities around the Marina Bay at your own time on Ninebot Mobility Devices! Experience the future of urban mobility within the festival compound and glide in the cool evening breeze.
Rental of mobility devices available between 6:30pm – 10pm (Terms & Conditions apply).
Check in 15 minutes ahead for onsite registration and familiarisation briefing. Rental prices to be released soon.
Marina Waterfront Bazaar
Daily, 3 – 26 March
Sunday to Thursday | 5pm – 11pm
Friday & Saturday | 4pm – 12am
Bayfront Event Space
Free admission
Feel the soothing breeze and admire possibly the world's most spectacular skyline as you shop at the Marina Bay Waterfront Promenade.
The Marina Waterfront Bazaar offers you a unique bazaar experience, with hard-to-find and unique merchandise offered by our vendors.
From lighted gadgets, collectible items, environmentally friendly products to latest fashion and accessories and lots more, we invite you and your family to come visit us every weekend during i Light Marina Bay 2017!
For latest news and updates on our merchandise mix, please check our Facebook page at www.fb.com/BazaarsINSingapore
GastroBeats Stage Performances
Fridays to Sundays | 3-5, 11-13, 17–19, 24-26 March
6.30pm – 10.30pm
Bayfront Event Space
Be dazzled by famous music acts like Scarlet Avenue, THELIONCITYBOY and Disco Hue and other local acts.
Silent Disco Series @ i Light Marina Bay
Week 1 | March 3-5
Week 2 | March 6 – 12
Week 3 | March 17 – 19
Week 4 | March 24 – 26
Family Event: 1pm – 3pm, 3.30pm – 5.30pm | Adult Event: 8pm – 11.50pm
Family @ $10, Adult @ $25
Marina Bay City Gallery
Since Silent Disco Asia's launch in May of last year, the headphone party concept has taken Singapore by storm, and with a string of sell-out events as well as featuring as a headline attraction at some of the region's largest music festivals, Silent Disco will be integrated into this year's i Light Marina Bay.
For the whole month of March, Silent Disco Asia has been granted exclusive use of Marina Bay City Gallery on Marina Boulevard and will transform the space into the world's first pop-up Silent Disco Nightclub and Arts event space. Centered on their unique rechargeable and energy efficient wireless LED headphones, the Silent Disco crew will host a colourful selection of activities which will appeal to a wide range of interests and tastes.
Taking center stage is the well renowned and raucous three-channel DJ party that is Silent Disco – a concept that has quickly become one of Singapore's most successful and talked about event brands.
Imagine a room full of dancing party-goers, all wearing individual wireless headsets that are glowing brightly in either red, green or blue – raving to music that only they can hear and with the dance floor transformed into an immersive and interactive light installation controlled by you!
At a Silent Disco Asia party, there are three DJs, all playing different styles of music locked in a battle for dance-floor supremacy!
Silent Disco Kids Edition
In addition to the weekend evening events there will also be a string of daytime family-friends Silent Disco sessions specifically designed for kids. Following the same format, there will be three channels of sounds but the music will be tailored for a younger ear with some pop classics thrown in for Mum and Dad.
This will be the first time Silent Disco opens itself to families in Singapore so make sure to get involved!
Silent Yoga
For those that like their experiences to be more chilled out then why not opt for our Silent Yoga sessions – a fresh and inspiring take on well-being that integrates top quality fitness instructors with cutting edge wireless headphone technology for a totally unique and personal exercise experience. This is yoga, on an entirely different zen level!
Find tickets for all Silent Disco @ i Light Marina Bay events here: http://silentdiscoasia.peatix.com
---
March holidays are here again. Click the image below for our compilation of March events and March School Holidays Activities for children in Singapore 2017.