For over 20 years, Glenn Doman Baby's Programs(S) Pte Ltd, in partnership with The Institutes for the Achievement of Human Potential® (I.A.H.P.) in Philadelphia, USA, has been helping parents here in Singapore to achieve their babies full potential with the Glenn Doman Reading Programs.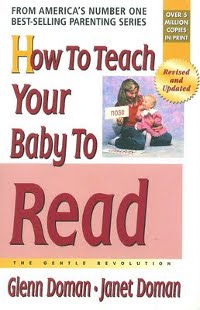 Glenn Doman Baby's Programs (S) Pte Ltd has been advocating the benefits of home-based early learning in babies and young children to countless numbers of families in Singapore and the region, thousands of families are now under the Glenn Doman family & benefitting from the Programs. We remain a keen advocator that learning and absorbing information is brain function. This is because young children are spontaneous learners and can absorb information effortlessly. In fact, they find enormous pleasure in doing so.
We would like to invite all parents-to-be & parents to our "How To Teach Your Baby To Read" Program Introduction, to give parents a better understanding on their babies Intellectual, Physical & Social developments.
We hope through the Introduction, we can provide more information & insight into how our babies learn at different stages of their lives. We also have Q&A section to answer to all parents queries.
Kindly note that we have scheduled the Program Introduction at our Singapore Office at date & time specified below. Kindly contact the representatives for attendance registration, limited seats available & on a first come first serve basis. Early Bird Door Gift of a BOI Encyclopedic Knowledge (worth S$50) for first 10 registrants for each Saturday's Program Introduction (1 set per parent/ couples)
---
Singapore Office: 28 Sin Ming Lane, #03-131, Midview City, Singapore 573972
Date: Saturday, 1st September 2012 – Time : 11am – 12.30nn
Date: Saturday, 6th October 2012 – Time : 11am – 12.30nn
Date: Saturday, 3rd November 2012 – Time : 11am – 12.30nn
Date: Saturday, 1st December 2012 – Time : 11am – 12:30nn.
Telephone Registration Contact : Mr Aaron/ Ms Pam – +65 6456 3526
Email Registration : info@gdbaby.com.sg
---
Please feel free to contact or email us for registrations or with regards to more details for the above Program Introduction. Kindly provide us with your contact details (contact number & email) so we can get in touch you.