No time to search through the trove of enrichment programmes for your child? Let us help!
We've narrowed our favourite enrichment programmes for this November / December school holiday. Featuring programmes from Language to Science to Character Development, take your pick.
1. British Council's Nov/Dec 2021 Holiday Study Camps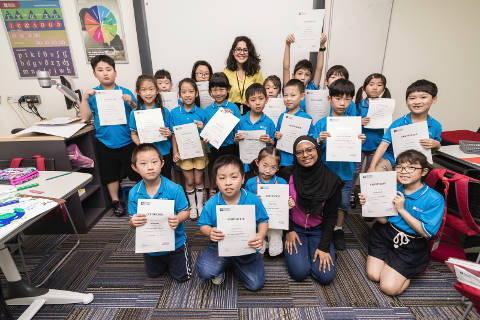 At the British Council we believe that language and communication skills are an integral part of almost every skill in life. That is why our Holiday Study Camps use English as a way to explore the world around us, developing problem solving, collaboration, critical thinking and creativity.
Each week, students explore a different theme while developing their written or spoken communication skills. Through these exciting topics, learners build their knowledge of the world around them and ignite their love of learning. We offer programmes for Early Years, Primary and Secondary-aged students.
To find out more information, visit here.
Enjoy up to 25% discount! Book our November/December 2021 Holiday Study Camp for your child now here!
*************************************
2. Chengzhu Mandarin Centre Year-end Holiday Programmes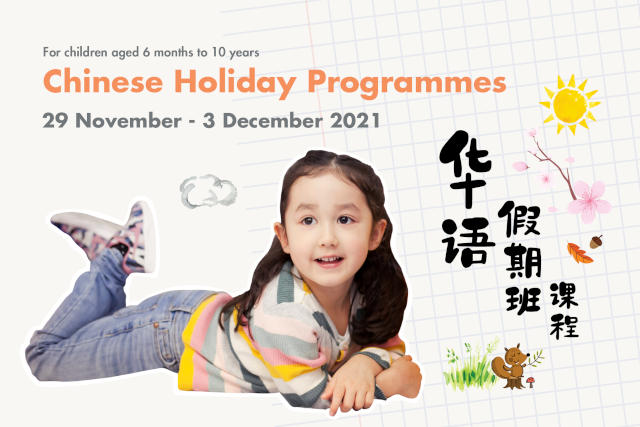 If you are worried about your child's momentum for learning Mandarin during the school break or you simply want them to experience the joy of the language, take a look at Chengzhu Mandarin Centre holiday programme line up. The verve, vivacity, warmth and passion of our skilled educators will motivate even the most reluctant child. Songs, music, dance, puppets, traditional Chinese arts, performance and writing practice are just some of the fun, creative and inspirational activities in store for your child (depending on programme) that will embolden them to share their learning with you at home!
For more information, visit here.
*************************************
3. Julia Gabriel Centre Debating Holiday Programmes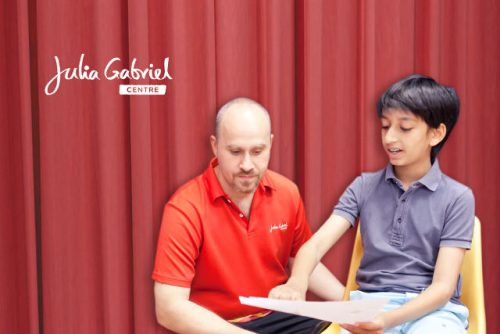 Join Senior Educator and Director of Julia Gabriel Education Mark Gabriel online for a week of stimulating discussion, role-play and debate. Drawing on his extensive experience of organising, convening and adjudicating Singapore and World Schools Debating Championships, Mark will share his enthusiasm for debate with primary and secondary students as they:
explore interesting issues from different view points
learn how to structure effective presentations and debate arguments
develop confident and persuasive public speaking skills
Improve your repertoire of eloquent language and learn how to win an argument compellingly – skills that are bound to advance you successfully through life!
For more information, visit here.
*************************************
4. Marshall Cavendish Education Nov / Dec Holiday Workshops 2021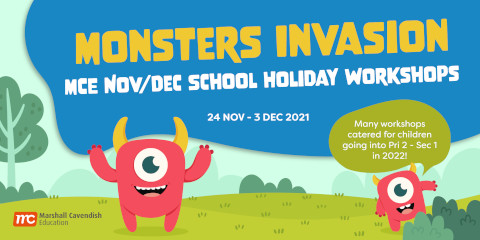 Is your child entering P2 – 6 next year? Join Marshall Cavendish Education (MCE) as we embark on a "Monster Invasion" journey whilst providing your child with the right skills to kick off the new year in all the different subjects – English, Math, Science and Chinese!
Not only that, MCE has also launched a new pre-school workshop catered for K1s and K2s separately, and curated a suite of workshops to target children interested in matters related to STEM or coding too!
Enjoy 10% savings for TNAP readers with promo code TNAP10.
Check out our workshops here.
*************************************
5. The Rhetoric Collective Year-End School Holiday Workshops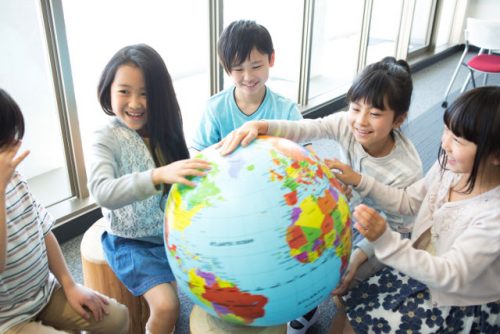 Empower your child on their journey to become a Future Thought Leader and rise above the noise! Develop their critical thinking and persuasive speaking abilities in a variety of workshops that will broaden their general knowledge and sharpen their skills.
With decades of experience coaching students from all walks of life to emerge champions at national competitions and improve their day-to-day communication, our expert coaches believe that with the right tools and training, anyone can communicate and anyone can debate.
With our regular weekly classes and holiday enrichment workshops, we provide vital opportunities for our students to hone their skills and improve their craft!
Enjoy up to $300 + $300 in savings when you register here!
*************************************
6. British Council's English Enrichment Courses for Young Learners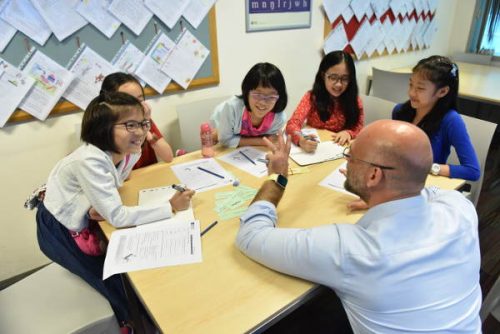 Turn curiosity into confidence. Turn mistakes into triumphs. A lifelong learning adventure starts at the British Council.
Developed by the world's English experts, the British Council's enrichment courses for Nursery 1 up to Secondary are student- centred and aligned to the syllabus set by the Ministry of Education. Our internationally qualified teachers provide a safe, supportive, and dynamic environment to help your child succeed at every stage of their academic journey whilst developing the essential 21st century skills and proficiencies to be able to thrive in the fast-changing world.
For more information, visit here.
Save S$100 on course fees! Register your child now for our English enrichment courses here!
*************************************
7. Julia Gabriel Centre Mindfulness Holiday Programmes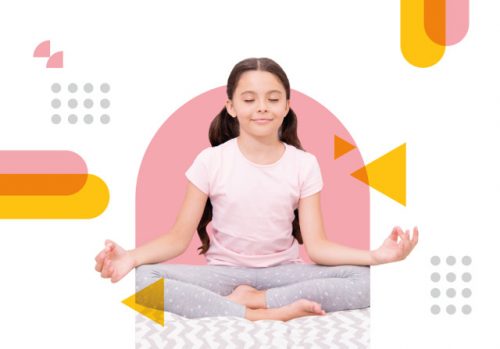 Make mindfulness a part of your child's daily routine.
Practising mindfulness regularly is known to increase children's ability to focus, manage their emotions, increase their sense of wellbeing and enable them to cope better in challenging situations.
This December Julia Gabriel Centre shares their expertise and understanding of how mindfulness can benefit young children with a unique holiday programme, Mindful Moments – Mastering the Mind.
Students in Primary One and Two will learn about the 24 character strengths, explore the value of kindness, collaboration and self-reflection, among many other aims, as they enjoy drama, design challenges, journalling and engaging stories.
For more information, visit here.
*************************************
8. Julia Gabriel Centre December Holiday Programmes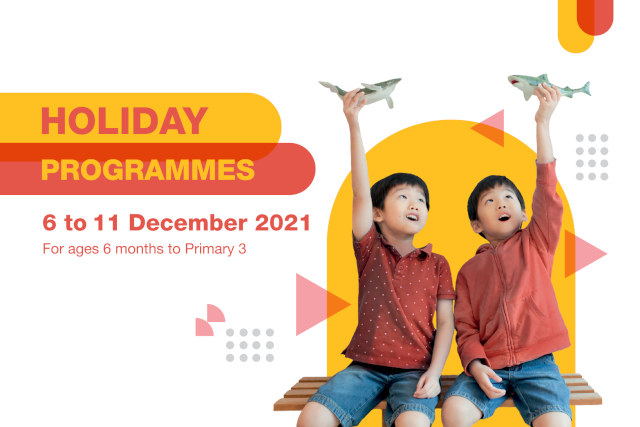 End the year on a cheery note by spending the school holidays with us! Whether you know us well or are new to Julia Gabriel Centre, we invite you to experience the energy, joy, creativity and care of our educators and programmes.
Every activity is designed to inspire and challenge, to enrich communication and literacy skills, to build confidence and to open young minds to a world full of possibilities. And this year, for the first time, P1 and P2 students can attend our unique mindfulness holiday camp when we will delve a little deeper into what makes us tick!
For more information, visit here.
*************************************
9. Wonderlit Year-End Holiday Camp 2021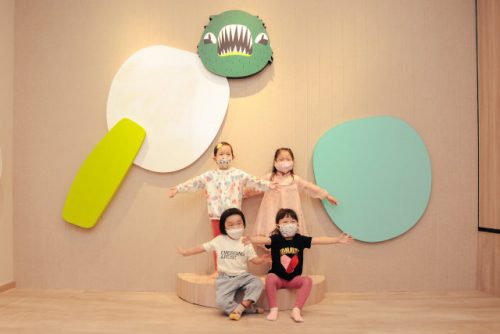 Looking for a fun, inspiring or intellectually stimulating holiday activity for your child? Our Wonderlit Holiday Camps will allow them to engage both mind and body in creative expression while making new friends. Choose from six camps designed by our professional Wonderlit Educators for children between 3 and 12 years of age.
The camps will be held in our whimsically-designed studio at Claymore Connect. All camps run weekly (from Mondays to Fridays) with either the morning (9am to 12pm) or afternoon (1pm to 4pm) session. Book now to secure a place and help your child embark on an exciting journey of self-discovery while having fun, lots of fun!
So, let's start now – visit here to find out more. Register before 5 November 2021 to get a 10% Early Bird discount.
*************************************
10. I Can Read Year-End Holiday Programme
Do you want to keep your child meaningfully engaged this Year-End Holiday? Worried if your child is ready to transition into Primary 3 or Primary 5 in 2022?
Let us help your child be prepared for the next stage of their learning journey by joining I Can Read's academically aligned yet fun-filled Online Holiday Programme.
Sign up now to get an EXCLUSIVE 15% off for existing students. Hurry, slots are filling in fast!
Learn more and register here.
*************************************
Enjoy 100% Off Registration Fee (save $40) when you book a FREE parent orientation on kumon.sg by 17 November 2021 and your child commences classes by 20 November 2021.
With the school holidays coming up, keep your children engaged daily with Kumon in the convenience of your home. Cultivate soft skills and abilities such as independence, confidence and perseverance towards learning. Seize this opportunity to strengthen your child's foundational skills in Math, English & Chinese.
Attend a free Parent Orientation to find out how your child can reap the benefits of learning with Kumon and take on the school year ahead and beyond with confidence.
Website: kumon.sg
*******************************
Note: All details are correct as at the time of publishing. While every effort has been made to ensure the accuracy and completeness of the information, no guarantee is given nor responsibility is taken for errors or omissions in the compilation. Readers are advised to check with the respective event organisers for the most updated schedules, venues and details.
---
It is the year-end November & December holidays. We have compiled a list of November-December School Holidays 2021 Activities for Kids. Click on the image below to find out more.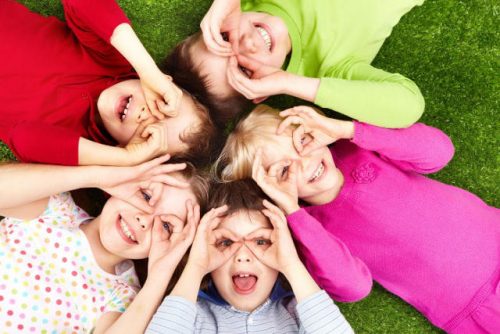 For other up coming events, visit Events in Singapore.
* * * * *
Like what you see here? Get parenting tips and stories straight to your inbox! Join our mailing list here.
Want to be heard 👂 and seen 👀 by over 100,000 parents in Singapore? We can help! Leave your contact here and we'll be in touch.