Step into the newly furnished GymnAdemics at Midview City, you will notice the spacious colored floor space, accompanied with some gym materials and friendly, cheerful staff.
GymnAdemics, is actually developed from the Glenn Domain Program which originated from the United States. It focuses on three main aspects: Music Appreciation, Physical Exercise and Language.
What is so unique about GymnAdemics?
Cater to the very young
GymnAdemics accept infants from as young as 6 months old, all the way to 6 year olds. Because one session is 1 h 15 min, some parents have concerns that the duration might be too long for their little ones.
The reason behind this is to ensure the effectiveness of the program; with a higher frequency of repeated practice, children will be able to retain new information and learn faster. Furthermore, each session is staggered into different components, and children will not be doing the same activity for a long period of time.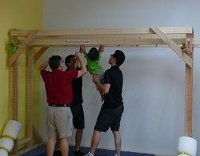 Physical Exercise
Each physical exercise here is designed specifically to stimulate certain areas of the brain, to help enhance your child's fine and gross motor skills.
All the exercises are adopted from Glenn Doman's book, "How to teach your baby to be physically superb?"
Multi-linguistic
Another unique characteristic is the integration of foreign language. Parents can choose at least two languages of their choice for the lessons; English, Mandarin or French.
Low teacher-to-child ratio
The teacher to child ratio is relatively low (1 facilitator to 4 children), in order to ensure the facilitator is able to give each child his or her fullest attention and guidance. All the staff is specially trained from the Glenn Doman Institute, in the United States.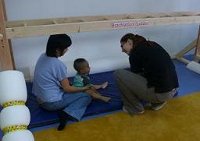 Parent Partnership
GymnAdemics is not just a one-stop place for you to drop your children and leave. Parents (with children below 3) accompany their child during each session.
The program believes in educating the parents, about the benefits of each exercise and activity. GymnAdemics also hold events, talks, special courses and get-togethers for parents to learn and exchange their thoughts and experiences with each other.
Testimonial From Parent
Darryl & Team,
Thanks for the great patience and tender care in teaching and monitoring Clare's development. She is reaching her 1 year old mark on 29th June this month.
She has been crawling since she started 2 weeks into GymnAdemics in Mar'11. The environment was ideal and stimulating for her learning and development progress. She was cranky and could not hang on the horizontal bar in her early days in GymnAdemics. After 3 months of session, she now treats it as her 2nd home and sometimes could hang more than 30sec without support.
Her focus and attention has been good with the routine of GD's flash card. Overall, i'm contented with the course structure that you guys have done for the little bundle of JOY. I'd definitely recommend GymnAdemics to parents with babies.
Thanks and have a great weekend :)
Regards
Ben


For more information about the program, you may contact them at:
Email: info@gymnademics.com
Website: www.gymnademics.com