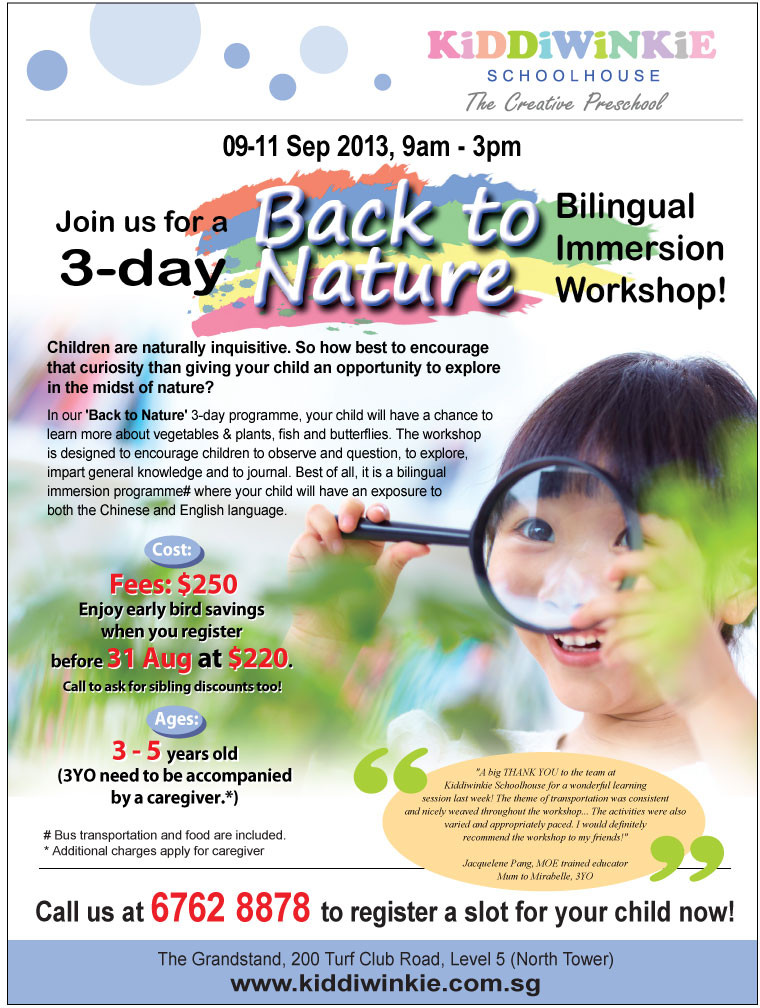 ---
Join us for a 3-day
"
Back to Nature

"

Bilingual Immersion Workshop
9 to 11 Sep 2013, 9am to 3pm

Children are naturally inquisitive. So how best to encourage that curiosity than giving your child an opportunity to explore in the midst of nature? In our 'Back to Nature' 3-day programme, your child will have a chance to learn more about vegetables & plants, fish and butterflies.

The workshop is designed to encourage children to observe and question, to explore, impart general knowledge and to journal. Best of all, it is a bilingual immersion programme# where your child will have an exposure to both the Chinese and English language.

Fees: $250 – Enjoy early bird savings when you register before 31 Aug 2013 at $220.

Call to ask for siblings discounts too! Suitable for ages 3-5 years old (3YO needs to be accompanied by a caregiver.*)

# Bus transportation and food are included.
* Additional charges apply for caregiver.

Call us at 6762 8878 to register a slot for your child now!

We are at The Grandstand, 200 Turf Club Road, Level 5 (North Tower) Singapore 287994 or visit www.kiddiwinkie.com.sg today.