Starting in January 2016, we will be rounding up some of the events and festivals for that month in Singapore. From Chinese New Year celebrations to Thaipusam, there are always some events for you.
Note: All details are correct as at time of publish. Readers are advised to check with the various event organisers for the most updated schedules.
1. The First Mums' & Dads' Congress 2016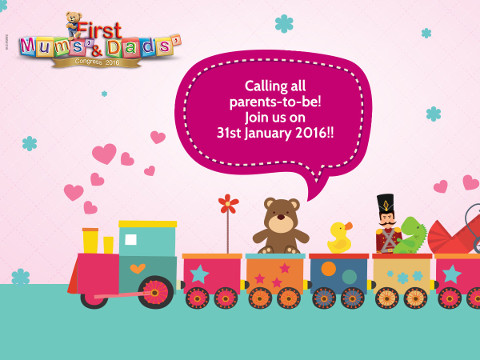 Happening at Raffles City Convention Centre Fairmont Ballroom Level 4 on Sunday 31 Jan 2016 12pm to 5pm. There will be awesome giveaways and other exciting activities.
Date: 31 January 2016
Venue: Raffles City Convention Centre, Fairmont Ballroom, Level 4.
Time: 12pm – 5pm
To register, visit First Mums' & Dads' Congress 2016

2. Chinatown Chinese New Year Celebrations
Join us to swing into the Year of the Monkey with the spectacular celebrations lined up for this Chinese New Year celebrations at Chinatown.
Date: 16 January to 8 February 2016
Venue: Chinatown Singapore
For more information, visit Chinatown Chinese New Year Celebrations 2016
Photo credit: Kreta Ayer-Kim Seng Citizens' Consultative Committee

3. A Lighter Side of History: Chinese New Year Customs & Taboos
Learn more about the food culture and the dos and don'ts during Chinese New Year among the the various dialect groups with Kuan Eng, the author of a series of dialect pictorial books. He will also present live illustrations of various items associated with Chinese New Year.
Date: 30 January 2016
Venue: National Museum
Time: 2pm to 3.30pm
Admission: Free with registration
For more information, visit http://nationalmuseum.sg/programmes/programme-list/alsoh-jan-16

4. Spring Singapore 2016
Ring in the Year of the Monkey with various celebratory events across the island, including Chinatown's Chinese New Year Celebrations, annual street extravaganza Chingay Parade, and the massive River Hongbao at Marina Bay.
Date: 25 January to 22 February 2016
Venue: Various venues
Website: www.pa.gov.sg

5. Gardeners' Day Out
Our signature event, Gardeners' Day Out promises an entire day of gardening and lifestyle activities for everyone. Favourite highlights include a Gardeners' Market, Food Bazaar, free talks and demonstrations, free garden tours of HortPark and kids' activities like storytelling and handicrafts!
Date: 30 January 2016
Venue: HortPark
Time: 9am – 5pm
For more information, visit www.nparks.gov.sg

6. Lunar New Year at AMK Hub
The mall's main entrance will be transformed by 12 larger-than-life Chinese zodiac animals at the Main Entrance, and shoppers are encouraged to read their zodiac forecast for the coming year!
Shoppers are invited to AMK Hub on 13 Feb 2016 for a fun-filled day of activities and giveaways, where they will be entertained by a dazzling LED Lion Dance Performance, fun carnival games, and will receive complimentary popcorn, candy floss, and balloons.
Date: 15 January to 21 February 2016
Venue: AMK Hub

7. Superhero Me! Drama Workshops For Children
Supported by experienced facilitators from Buds Theatre Singapore, the drama workshops will educate child participants on how media affects the way they view body image. The workshops will be conducted in the month of January at various islandwide locations.
Dates: 30 January | 31 January 2016
Location: Woodlands Regional Library | Changi Simei Community Centre
Pre-registration is required. For more information, visit Superhero Me! Drama Workshops For Children

8. Run For Hope

Run For Hope (RFH) is an annual run organised by Four Seasons Hotel Singapore, Regent Singapore and the National Cancer Centre Singapore (NCCS) to raise awareness and support for cancer research. Since partnering the NCCS in 2008 to co-organise the Run For Hope, more than $2.4 million has been collected to date. Part of the proceeds went to the NCC Research Fund, providing for an array of translational and clinical research programmes at the NCCS. This 23rd edition run comprises a 3.5 km and 10 km non-competitive route.
Date: Sunday, January 31, 2016
Time: 7am for 10km, 730am for 3.5km
Venue: Promontory @ Marina Bay
Sign up at www.runforhope.sg
Registrations will be closed on Jan 8, 2016


9. Spring Fun in the Park @ City Square Mall
Families and friends can look forward to a host of games and rides, including a Monkey-themed inflatable and Junior Horse Carousel. There will also be a display of the 12 zodiac signs' 2016 forecast, where you can read up on what's in store for you in 2016, or strike a pose with your zodiac display.
Date: 15 January 2016 to 14 February 2016
Time: Outdoor Carnival, 6pm – 10pm (Monday – Friday), 12pm – 10pm (Saturday, Sunday and PH)
Venue: Level 1 City Green (Outdoor Park)

Events that are already over in January 2016
Japan New Year At Liang Court!

Liang Court will have a grand celebration of the Japan New Year (正月 Shogatsu) with an array of exciting activities happening from 26 Dec 2015 to 10 Jan 2016.
Date: 26 December 2015 to 10 January 2016
Venue: Liang Court
For more information, visit Celebrate Japan New Year At Liang Court!

Chiltern House Preschool Open House 2016
What do language, imagination and discovery feel like? It Feels Like Chiltern House. You are invited to our Open House and enjoy a waiver of $200 registration fee*
Date: 14 January 2016
Venue: East Coast | Forum | Mountbatten | Thomson | Turf Club
For more information, visit Chiltern House Preschool Open House 2016

Be S.U.R.E. and Help Your Child Excel
Join us for an hour-long workshop as we introduce a comprehensive suite of resources to support your research and project needs. This includes S.U.R.E. Portal, Singapore Infopedia, NewspaperSG, Library PressDisplay and more. Please bring along your smartphone or tablet for a hands-on session as a live demonstration of how to use our online resources will be conducted. Limited seats available, click here to register.
Date: 9 January 2016
Venue: Bishan Public Library
Website: nlb.gov.sg/sure/2015-workshop/
Admission is free

SUPER S.U.R.E. SHOW (Science and Mathematics Special)
Explore the world of Science and Mathematics during our special 1-hour Q & A show with internationally acclaimed thought leaders such as Nobel Laureate and theoretical physicist David Gross, theoretical computing giant Leslie Valiant as well as pioneering mathematician Stephen Smale. This event will be moderated by Steven Chia of Channel NewsAsia.
Date: 21 January 2016, Thursday
Time: 7.30pm to 8.30pm
Venue: Level 16, The Pod, National Library Building, 100 Victoria Street, Singapore 188064 (For access to The Pod, proceed to lift lobby opposite the information counter)
Admission is free, reserve a seat on GoLibrary now!
For more information, please visit www.nlb.gov.sg/sure/supershow4.

I Can Read Day
You are invited to celebrate with us here at I Can Read® Choa Chu Kang for a whole day of fun! There will be colouring activities and fun games plus amazing prizes to be won. Participate in the drawing contest and your child might just stand a chance to win Free I Can Read® lessons!
Date: 23 to 24 January 2016
Venue: I Can Read CCK
Time: 10am – 5pm
To register, visit http://bit.ly/icanreadcck

Singapore Art Week 2016
Catch up on five ongoing contemporary art exhibitions, as well as talks and tours, an art market, roving performances, and late night live music as SAM celebrates Singapore Art Week with extended opening hours and a special line-up of events.
Date: 15 to 24 January 2016
Venue: Singapore Art Museum
Website: www.singaporeartmuseum.sg

Thaipusam Festival 2016
Thaipusam is a thanksgiving festival that involves asceticism and control over one's senses. It is a day for devotees to celebrate the fulfilment of their vows. In Singapore, this religious festival attracts thousands of Hindu devotees who fulfil their vows through a 4km walk from the Sri Srinivasa Perumal Temple (SSPT) to the Sri Thendayuthapani Temple (STT).
Date: 23 to 24 January 2016
Venue: Little India to Tank Road
Website: www.heb.gov.sg