It's spells, magic and Harry Potter-galore as the Wizarding World arrives at Changi Airport.
Wizarding World fans rejoice, as all manner of magical magnificence descends upon Changi Airport this festive season! From 16 November 2018 to mid-February 2019, witches, wizards and Muggles will get the opportunity to experience the magical Wizarding World, right in the heart of Changi Airport – where spaces will be transformed into iconic locations from the film series, complete with various themed activities and exclusive Harry Potter memorabilia.
Fans of all ages will get the chance to meander through the captivating Diagon Alley-inspired setup (located near Terminal 3 Check-In Row 11) and participate in fun activities. Fans can don a robe inside the iconic shop, Madam Malkin's Robes for all Occasions, learn how to cast spells, practice their Quidditch skills at the Quaffle Toss game and stack coins on a giant Niffler replica.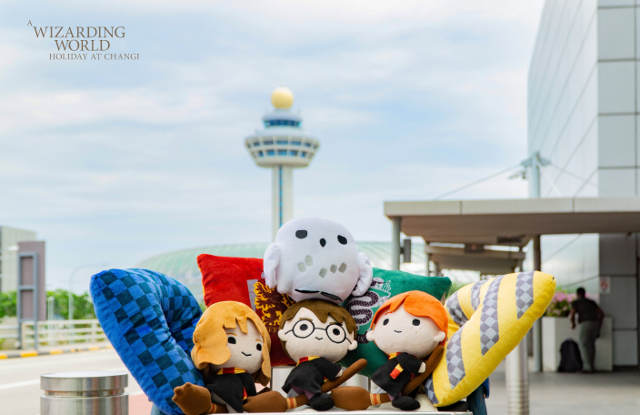 Visitors are also welcomed to take a leisurely stroll along the High Street of the enchanting Hogsmeade Village-inspired setup and take in the sights of well-known shops featuring Zonko's Joke Shop, Madam Puddifoot's Tea Shop, Owl Post Office and even catch a glimpse of the famous Hogwarts School of Witchcraft and Wizardry in the distance. Located right at Terminal 3 Departure Hall, fans and visitors will be spellbound by daily live shows and simulated snowfall – guaranteed to get them in that festive, wintery mood as they capture wonderful holiday memories with the Hogwarts Express as the perfect backdrop!
Step into a wintry Hogsmeade Village at Terminal 3 (T3)

A young fan at a wintry Hogsmeade Village-inspired setup at Terminal 3 Departure Hall
Inspired by the original Hogsmeade Village in the Harry Potter series, this breath-taking large-scale setup at T3's Departure Hall depicts the picturesque town with snowy rooftops set against the backdrop of the grand Hogwarts castle seen in the distance. Look out for replicas of the town's most well-known shops like Zonko's Joke Shop, Madam Puddifoots Tea Shop, Owl Post and sweet shop Honeydukes. Fans can get up close with a recreation of the iconic Hogwarts Express or take pictures of themselves as one of the many magical folks that frequent Hogsmeade.
To get everyone in the mood for the festive season, daily snow and light shows will be delighting airport visitors at this event area.




Magic and wizardry awaits at Diagon Alley at T3
Also situated in T3 is an enchanting interpretation of the famous Diagon Alley, where Hogwarts students purchase essential school supplies like school uniforms and wands in the films. Take a stroll down this famed street and admire the exquisite shop facades including Madam Malkin's Robes for all Occasions, joke shop Weasleys' Wizard Wheezes, and Quality Quidditch Supplies.
Visitors can dress up as their favourite wizard through the range of Hogwarts school uniforms and dress robes found at a Madam Malkin's Robes for all Occasions-inspired shop and capture a GIF photo in front of a magical mirror. Next, learn some spell-casting skills at the Wand Challenge. Simply wave a wand to see how many correct spells can be cast.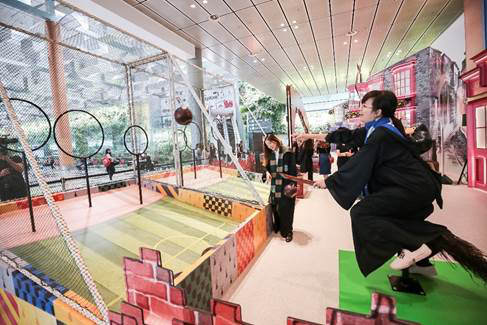 Fans balancing on a broomstick while trying their hand at this fun activity based on the wizarding sport Quidditch
Visitors trying to stack the right number of coins at the Niffler Challenge Game.
Those who want to practice their Quidditch skills can try their hand at the Quaffle Toss – ride on a broomstick and throw Quaffle balls into a series of hoops to score points. At another activity station, visitors can play with an adorable giant Niffler that promises not to snatch the shiny coins that players will take turns stacking until it topples.
Other magical photo opportunities will also be available across the airport. Try and spot the Weasleys' flying Ford Anglia stuck in the enchanted Whomping Willow setup as you go past the Terminal 2 Departure Hall or snap a photo of your visit to Newt Scamander's Menagerie setup from the Fantastic Beasts series at Terminal 1 Transit Central Immigration.
Be awed by the fantastic and the magical
Fans can look forward to the Whomping Willow, an extremely rare replica of the magical tree set up at Terminal 2 Departure Hall. Reminder – bring along that selfie stick if you want to catch a photo with the flying car wedged in the tree!
The adorable Niffler takes centre stage at this Terminal 1 Transit setup inspired by Newt Scamander's Menagerie from the Fantastic Beast series
For fans who want to get their hands on Wizarding World keepsakes, look forward to a bespoke range of film-inspired plush toys, scarves and travel pillows available as purchase-with-purchase premiums at Changi Airport along with a variety of Wizarding World merchandise available at two pop-up shops located in Terminals 1 and 3.
Want to be heard and seen by over 100,000 parents in Singapore? We can help! Leave your contact here and we'll be in touch.