Having the belief that money saving skills is as important as leaning ABCs and 123s, Ekomini, a Canadian enterprise, has brought the traditional piggy bank to a whole new level.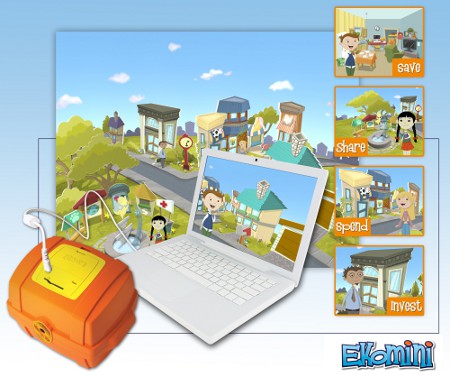 Special features:
Keeping up with the 21st century, this web-enabled treasure chest features a patented coin-reader. This can be connected to a computer via a USB port, which allows you to keep track on the progress of your kids' money savings.
That's not all. It also features an online educational game that helps children learn what they should know about money. Your child not only becomes more money savvy, they also get to enjoy the process of saving through playing the educational game that comes along with it, Ekominiville.
The program helps your kids learn about saving up for something they like, how to manage their money right and even share it for a great cause. Suitable for children 6 to 12 years old, this treasure money chest has also a stamp of approval from educational consultant, Dr. Daniel Racine.
Money does not come by easily and requires effort and hard work to earn it. Children today are less aware of how hard it is to earn. It's good to know that parents now have new teaching tool, to help them learn and understand the concept of saving.
Ekomini is now sold at Smart Alley.
The New Age Parents readers enjoy a special $20 discount when you purchase from Smart Alley's website. Simple use the Coupon Code TMEP20 Limited to first 20 customers only.