Let your child embark on a social entrepreneurship project with DreamKids, where they develop their abilities to think of innovative solutions for a good cause!
In this programme, children will embark on a project called Alex's Lemonade Stand.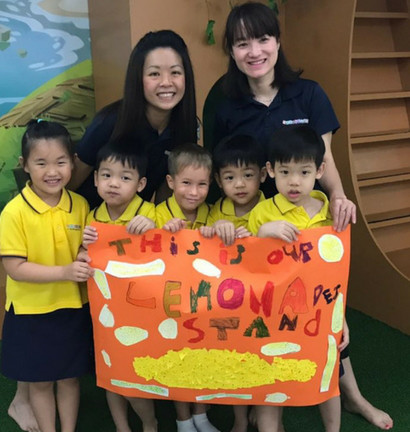 Who is Alex?
Four-year-old cancer patient Alexandra Scott was a small girl with a big plan. She ran her own lemonade stand to raise money for childhood cancer research. Before passing away at the age of 8, Alex raised $1 million with the help of kids across the country. Since then, kids all over have held lemonade stands to raise money for childhood cancer research.
This programme helps children to understand what it means to be an entrepreneur, and learn success stories and life stories of other entrepreneurs. It also supports your child's self-sufficiency, creativity, empathy, rational thinking, and entrepreneurship skills.
Besides learning and being inspired by her story, children will also have a chance to run their own lemonade stand and brainstorm for ideas on how they can help other children. Suitable for children age 5 and 6.
For more information, visit Dreamkids Kindergarten Fundraising For Alex's Lemonade Stand Foundation
Dreamkids Preschool & Enrichment Programmes are now open for registration.
Our programmes:
Preschool programmes (18months to 6 years old)
School Holiday programmes (18months to 6 years old)
Thinkers Tinkers (Science Technology, Engineering, Math)
Parent-Tot Programme (18months to 36 months)
Call us at 8777 8834 or visit us at www.dreamkids.com.sg
Address: 46 East Coast Road #01-03 Eastgate Singapore 428766