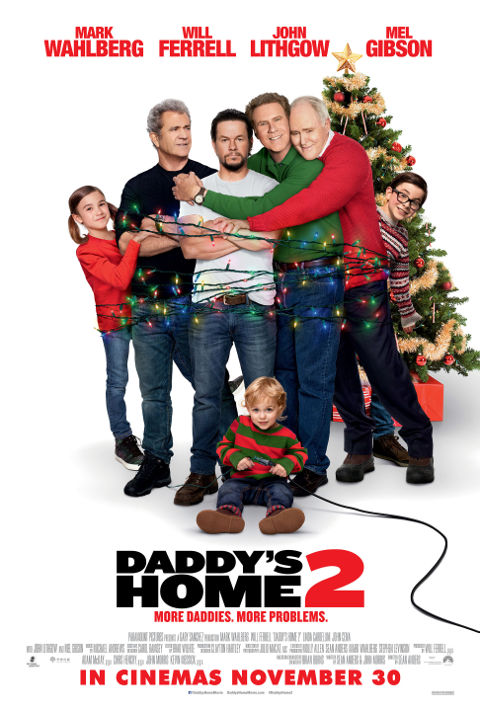 Release Date: In Cinemas 30 November
Rating & Consumer Advice: PG – Some sexual references
Directed By: Sean Anders
Starring: Will Ferrell, Mark Wahlberg, Linda Cardellini, John Cena,
John Lithgow & Mel Gibson
******
We are giving away tickets to the 'Preview Screening' of Daddy's Home 2 movie and Daddy's Home 2 premiums. See end of post for details.
******

In the sequel to the 2015 global smash, father and stepfather, Dusty (Mark Wahlberg) and Brad (Will Ferrell) have joined forces to provide their kids with the perfect Christmas. Their newfound partnership is put to the test when Dusty's old-school, macho Dad (Mel Gibson) and Brad's ultra-affectionate and emotional Dad (John Lithgow) arrive just in time to throw the holiday into complete chaos.
---
We are giving away tickets to Daddy's Home 2 Movie Preview and Daddy's Home 2 Premiums (Bluetooth Speaker & Thermal Bottles)
1st winner: 1 x 4 tickets + 1 speaker + 1 bottle (worth $190)
2nd & 3rd winners: 1 x 4 tickets + 1 bottle (worth $110)
Details of Preview
Date: 28 November 2017
Time: Around 7pm (TBC)
Venue: Shaw Theatres Lido
To take part in the giveaway, follow the steps below:
1. Like and Follow us on Facebook or Follow us on Instagram.
2. Join at least one of our Facebook Groups below:
3. Watch the video below, fill in the form and answer a simple question:

The giveaway has ended.
4. Like and Share (set to public) this Facebook post.
Giveaway ends 26 November 2017.
Important notes:
Winners will be notified via phone and email.
Winners will have to self-collect the tickets & premiums on 28 November 2017 at Shaw Theatres Lido Lobby – UIP redemption table located near the ticketing counter from 6pm onwards.
Winners are required to product their NRICs during ticket collection.
Prizes courtesy of United International Pictures Singapore.
© 2017 Par. Pics.
Terms and conditions apply. Please also read our Privacy Policy.
For more contests and giveaways, go to The New Age Parents Contest Page