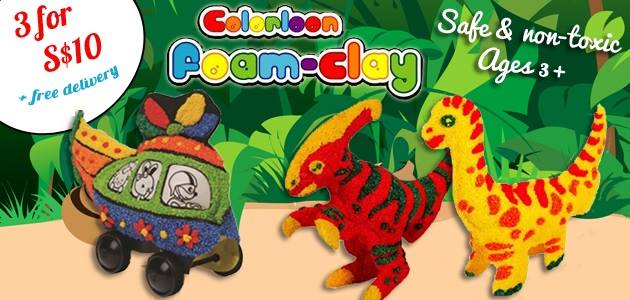 Set of 3 Colorloon foam clay packs @ $10 ONLY with FREE normal mail delivery!
Packs will be chosen randomly amongst the following items (If you have a preferred theme, please indicated it below, we will try to fulfill your preference for at least 1 pack out of 3):

Foam Clay Vehicle Fire Engine
Foam Clay Vehicle School Bus
Foam Clay Vehicle Air plane
Foam Clay Vehicle Helicopter
Foam Clay Dinosaur Tyrannosaurs
Foam Clay Dinosaur Parasaurolophus
Foam Clay Dinosaur Seismosaurus
Foam Clay Dinosaur Stegosaurus
Foam Clay Princess Viviana
Each Foam Clay pack comes with: – 1 colorloon (paper balloon) – 1 straw – 4 foam clay packs – 1 set of wheels – 1 background to play on.
Our foam clay does not leave any residue and is non sticky on hands, spreading the foam clay is also good for motor skills training and sensory play.
Made In Korea.
Important note: The stated expiry date of the product is 30 April 2014. Add droplets of water to knead if clay is dry after expiry date.
Please email your orders to sales@joli-petite.com, drop us a message on facebook or whatsapp 82271092. While stocks last!~
Images shown here are for illustration purposes only, do check with the vendor for actual availability.