Welcome the New Year at Gardens by the Bay! Kicking off 2018 is the "Dahlia Dreams" floral display, which features a delightful array of dahlias blossoming amidst the oriental setting of a Chinese courtyard garden.
Visitors can also look forward to a host of cultural festivities, including spectacular ultraviolet (UV) light performances featuring the debut appearance of the UV Lotus Dragon and UV Northern Lions in Singapore, as part of the Gardens' Lunar New Year programme "Spring Surprise".
"Dahlia Dreams" Floral Display (大丽花之梦)
Credit: Gardens by the Bay
Inspired by the picturesque landscape of Chinese imperial gardens, Dahlia Dreams welcomes Lunar New Year with an elegant display of dahlias, camellias, lagerstroemias and bromeliads in a courtyard garden setting. Auspicious Southern Lions greet visitors as they enter while Chinese guardian lions (also known as "Foo Dogs") stand guard.
To celebrate the Year of the Dog, intricate diorama cutouts, exquisite driftwood sculptures and ornamental topiaries in the shape of dogs can be spotted in the display. Adding to the majesty are palace lanterns and umbrella curtains that embellish the garden. On selected days in February, the God of Fortune will make an appearance in the Flower Dome to spread wealth and prosperity.
Date: 19 January to 4 March 2018
Time: 9am – 9pm
Venue: Flower Dome
Details: Admission charge to the conservatories applies. See below for Chinese New Year Ticketing Promotion or check out this deal at Voyagin.
Chinese New Year Ticketing Promotion
The Lunar New Year is a time for family get-togethers. From 16 February to 4 March 2018, purchase a full-priced Singapore Resident Adult ticket at our ticketing counters onsite and receive a Singapore Resident Senior Citizen ticket for free! Terms and conditions apply. Visit here for details or check out this deal at Voyagin.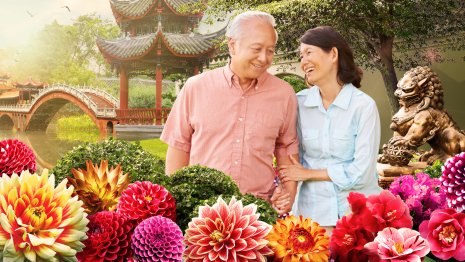 Curious To Find Out More?
Pick up a Dahlia Dreams Garden Trail for more interesting information or join us for daily "ASK Me!" tours by our friendly Display Interpreters as they share fascinating botanical facts and anecdotes about the floral display.
Date: 19 January to 4 March 2018
Time: 11am and 3pm (2pm – 5pm on 27 & 28 January, and 10, 11, 24 & 25 February)
Details: Guided tours are free, but admission charge to the Flower Dome applies.
Tours last approximately 15 minutes and are available on a first-come-first-served basis.
To participate, gather at the "ASK Me!" poster near the Flower Field. Tour will begin when a group of five or more visitors is assembled.
Tours will not be conducted on Flower Dome closure dates.
Spring Surprise
Credit: Gardens by the Bay
Usher in Spring and celebrate the Year of the Dog with Gardens by the Bay. Spring Surprise 2018 offers an array of festive performances and fun for the entire family. Do not miss the spectacular ultraviolet (UV) light performances with the UV Lotus Dragon and UV Northern Lions making their very first appearance here in Singapore.
Date: 14 February to 25 February 2018
Time: 12pm – 8.30pm (selected timings)
Venue: Supertree Grove, Flower Dome, The Canopy
Details: Programmes are free. Admission charge to Flower Dome applies. Visit here for more information or check out this deal at Voyagin.
Credit: Gardens by the Bay




Singapore Chinese Orchestra Concert
Singapore Chinese Orchestra presents "Music Oasis: Spring Romance at the Gardens". Enjoy a romantic Valentine's Day evening as you usher in Spring with your loved ones with tunes like "Over the Rainbow", "Can You Feel the Love Tonight", and "A Little Happiness".
Spring Acts
For one night only, this special performance features Lion Dance "Cai Gao Qing" (採高青), fascinating belly dancers and amazing contortionists. Also, spot roving stilt-walkers and take a photo with them!
Stretch and Scratch
Enjoy a refreshing morning yoga session with your furry-pawed doggie buddy. Bring your yoga mat and join in this experience brought to you in collaboration with ActiveSG. Programme is free but registration is required. Please register with ActiveSG.
A Pawsome Day
Bring your dog to the Gardens for a fun time at the specially designed playground and parkour obstacle course for canines, and you might pick up a tip or two on how to stretch the potential of your dog. There will be dogs performing tricks and wagon pulling too! This programme is held in collaboration with Bugle's K-9 Training Skool.
Movie by the Lawn – A Dog's Purpose
Romance doesn't stop on Valentine's Day. Bring along your furry-pawed friends and enjoy a beautiful evening with your loved ones. Sit back, relax and enjoy a movie at the Gardens' lush lawn.
Spring Melodies
Bask in captivating Chinese orchestral melodies by talented young musicians from various schools.
Rise of the Guardians
Be dazzled by this exciting ultraviolet light performance specially choreographed to create a unique immersive experience. With the premiere of the magnificent UV Lotus Dragon and UV Northern Lion dances in Singapore, this vivid performance is not to be missed!
Lion Dance on Poles
Usher in the Lunar New Year with a thrilling performance of lion dance on poles (commonly known as "Mei Hua Zhuang" or "Plum Blossom Poles"). Look forward to a stunning display of breathtaking stunts by an award-winning local lion dance troupe.
God of Fortune Meet and Greet
Keep an eye out for the adorable God of Fortune who will be sharing his wealth and fortune with visitors around the Gardens!
Credit: Gardens by the Bay
Spring Treats
Try your hands at making your own handicrafts to welcome Spring into your home!
Spring Dances
Be entertained by the graceful moves and energetic groove of young dancers from various schools.
Silver Talents
Organised in collaboration with the People's Association's Active Ageing Council, our Silver Talents are all set to celebrate Spring with a medley of music and dance.
Colours of Spring
To celebrate the Year of the Dog, various community groups in Singapore have come together to paint "Foo Dog" lanterns. Foo Dogs, also known as Chinese stone lions, are vigilant guardians that keep watch at the entrances of establishments and bring bountiful blessings and prosperity to inhabitants. Look out for these colourful lanterns in the Gardens. This display is put up in collaboration with the People's Association's Integration and Naturalisation Committee.
Silver Gallery
From calligraphy and painting to intricate paper cutting, this visually engaging display put up in collaboration with the People's Association's Active Ageing Council showcases the creativity and artistic talent of seniors in Singapore.
Silver Gallery – Open for Submissions
Interested parties who would like to participate in Silver Gallery and submit their art pieces for consideration can download the entry form at here. Registration closes on 31 January 2018.
Events
Hana Hou At The Gardens
Don't miss an exhilarating performance by the 11-member US Air Force Band of the Pacific-Hawaii, Hana Hou, at the Gardens. Enjoy popular hits and many familiar tunes by this talented music ensemble. This programme is free and held in collaboration with the US Embassy Singapore.
Date: 9 February 2018
Time: 12pm – 1pm
Venue: The Canopy
Skip the queue and buy your tickets online at Voyagin to enjoy 18% off admission tickets.
---
FUN-Tastic Fortune Awaits You On Sentosa: These Are 8 Reasons To Visit Sentosa This Chinese New Year.
(Image © 2018 Peanuts Worldwide LLC, Peanuts.com)
---
Where to go during Chinese New Year 2018? Click image to check out.
Want to be heard and seen by over 100,000 parents in Singapore? We can help! Leave your contact here and we'll be in touch.