Plan to get your child a gift this Children's Day on the 7th October? Here are some fun toys for you to consider!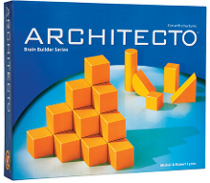 • Architecto Game Set
A fun way to explore 3D structures and forms!
Price: $49.90
Age: 7 years and above
Players construct 3D models Based on illustrations in perspective. From simple Shapes to Complex structures, players develop stronger notions of geometric concepts and 3D visualisation. While providing solid educational skills, it's also captivating and exciting! Architecto is part of the Architecto line, which consists of 4 exquisite games of spatial visualization. In these games, players progress at their own rhythm, as puzzles gradually become more challenging.
All Games include the same set of Geoblocks and a spiral book with 6 color–‐coded levels of difficulty. Contents: 18 Geoblocks, 1 booklet that includes the rules, 50 models and the solutions.
For more information, visit www.thenurtureseeds.com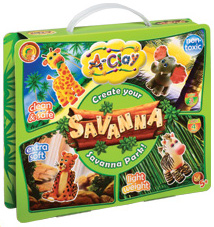 • Modelling Clay In A SET: A-Clay "Savanna"
Package Content : A-Clay 3 colors 20g , 4 colors, 40g, glue 5ml, deco paint 5ml, tool, 4 pair of eyes, instruction
Age: 5+ years
Price: $35.20
Tickle the imagination of your kids while developing their motor skills and spatial thinking with A-clay. This non-sticky, extra soft ultra-light clay can be easily moulded into any shape, and can be mixed to create new exciting colours. Hardened A-clay can also be reused by sprinkling some water on it and storing in its box.
Let the finished artworks air dry for about 24 hours. It is necessary to turn over large artworks to make them air-dry evenly. Do not dry the artworks in microwave or oven. Do not expose the artworks to low temperatures; or high temperatures of over 50-degree Celsius. Keep the artworks away from an open fire. Unfinished artworks should be kept in hermetically sealed bags and unused A-Clay should be kept in hermetically sealed containers.
For more information on Fünovator, please visit www.funovator.com
Smart Alley Toys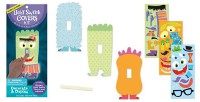 • All Peaceable Kingdom Sticker Kits
Usual Price: $11.90 Now: $9.90
Age Group: 3 to 5 years old
Package Content: 48 glow-in-the-dark stickers and double-stick adhesive tape
All-in-one craft kit includes all the makings for 3 super silly glow-in-the-dark light switch covers. Add glasses, hats, and eyes then turn out the lights and watch them glow! Use the included adhesive tape to affix to light switch covers all around the house! Includes 3 covers that fit standard single light switch plates.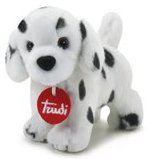 • Trudino Soft Toys
Usual Price: $21.90 – $22.90 Now: $19.90
Age Group: 0 to 2 years old
Trudini, the line of little Trudi soft toys for great moments! There are many Trudini: the farm animals, such as the friendly pig, the tender rabbit or the strong horse; the exotic animals, such as the soft koala, the funny zebra and the elegant giraffe; sweet kittens and faithful doggies and many other baby animals, all to be cuddled! The Trudini line is divided into the Classic version, smaller copies of the bigger characters, and the Soft version, characterised by the use of particularly soft materials and with a cuter look. All the Trudini characters are sold with an elegant red Trudi gift box, enriched with a refined satin ribbon. The Trudini can be machine washed at temperature not exceeding 30°C (85F).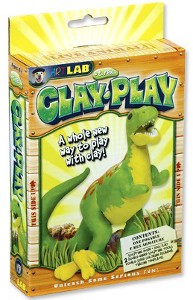 • Artlab Clay Play
Price: $14.90
Age Group: 6 – 8 years old
The Clay Play Series maintains the theme that you can be an artist, a sculptor, and an animal lover! Young sculptors can create a realistic version of one animal with each single-themed sculpting Clay Play kit. Along the way, kids learn a variety of sculpting techniques and interesting facts about the featured animal. Then they can showcase their masterpiece in front of one of two dioramas—a natural setting or a display frame.
Clay Play Series include: Clay Play Tiger, Clay Play T.rex , Clay Play Lizard, Clay Play Lion, Clay Play Horse, Clay Play Elephant.
For more information, visit www.smartalley.com.sg
Music and I Personalized CDs
A home for your children's personalised Music CDs and DVDs, Music and I products are unique and timeless gifts that entertain and put a smile on your kids' faces every time they hear their names in the songs. It also promotes values, faith, confidence & good character.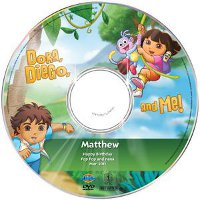 • Dora, Diego And Me!
This Personalized DVD features your child joining forces with Dora the Explorer and her friends Diego and Boots as they set out to rescue Baby Jaguar. Your child will help Dora navigate the map to get through the rain forest, around the cave and on to the waterfall, where Baby Jaguar is in danger. Your child will soar to new heights in this thrilling and educational video, which encourages kindness and kinship with all animals.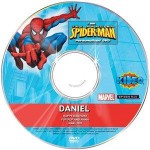 • I Am Amazing Spiderman
This Personalized DVD features your child as the Amazing Spider-Man! The video is chock-full of exhilarating action sequences that promise to enthrall and captivate. Your child puts on your Spidey mask and does battle with nine treacherous villains who are wreaking havoc across New York City. As Spider-Man, your child will find out who's the evil mastermind behind the crime wave and put an end to all the mayhem. This video inspires courage in the face of danger, and includes an educational segment on spiders with Jonah Jameson.
For more information, visit www.music-and-i.com or email them at sales@music-and-i.com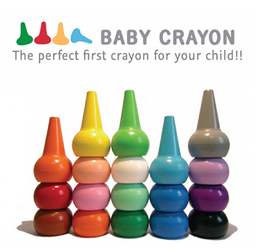 • Playon Crayon by Jam 'n Muffin!
Price: $16.90
Age Group: 2 years & up
These fun crayons are stain free and hard to break. Its unique shape makes it easier for children to grasp the crayon, which is fantastic for the little ones learning how to hold and control their crayons when drawing. An innovative feature of these crayons is their ability to stack on top of one another, providing even more fun for the little ones. The Playon Crayon will keep budding little artists busy exploring the wonderful world or art, colour and imagination.
The lovely 12 Colour Set of Playon Crayon is a perfect first crayon for toddlers. Each box includes 12 certified non-toxic wax crayons each of a different colour.
For more info, log on to www.jamandmuffin.com
This article was first published in The New Age Parents Online Magazine Oct/Nov 11 issue Page 16