Children Storybooks Giveaway. Read our September Story Book Recommendations and Stand a Chance to Win One of the following books. See end of post for details. Contest ends 18 October 2010!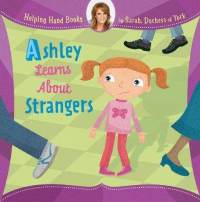 1. Too Pickley by Jean Reidy
Synopsis:
Too Pickley talks about a hungry boy who picks on all kinds of food in front of him. Too squishy, too fruity, too fishy, too wrinkly, too slurpy, too burpy – the boy just finds fault with all kinds of food. Finally, the children finds something he likes on the last page! He exclaimed that it was yummy and finish them up, leaving a clean plate.
Although readers have no idea what the perfect food is, adults can improvise and ask children what they think it is – have the children imagine and share with you the perfect food in their perception.

Age: Recommended for aged 3 and up
2. Ashley Learns About Strangers by Sarah, Duchess of York
Synopsis:
Ashley and her mom went shopping at a crowded store. Her mom met a friend and struck up a long conversation. Ashley get bored and wanders off. Being engrossed in what she saw, she completely forgot about her mom. Soon, Ashley realizes she is all alone, lost in the store. However, she remained calm and remembered that she has to look for someone in a uniform when she gets lost. The friendly security guard soon reunites Ashley and her mom.
Through this book, children will learn what to do if they are lost and the simple and rhyming rules to follow to stay safe. It is definitely a helpful book to pass the message to young children warning them about stranger and how to remain safe.
Check out the series of books by Sarah, Duchess of York that educate and enrich young children's lives
Age: Recommended for aged 4 and up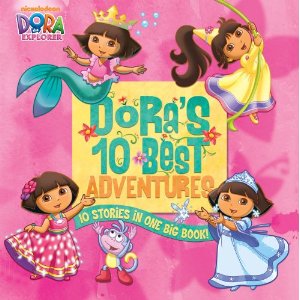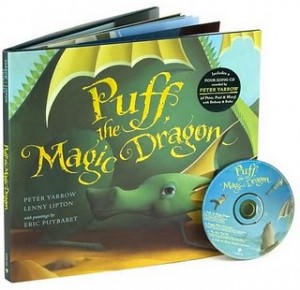 3. Dora's 10 Best Adventures adapted by Sarah Willson
Synopsis:
Dora the explorer is a hot favourite with young children. It features Dora in different problematic situations and how Dora solves the problem. The stories will engage children's attention and enhance their thinking skills as they try to think of possible solutions to help Dora. In Dora's 10 Best Adventures, it features 10 different stories that are children's favourite tales – Mermaid Kingdom, Snow Princess, Crystal Kingdom, Fairytale Land Story, etc, all in this book.
These beautiful and colourful illustrations are sure to capture the young ones' attention! Come on and embark the adventures together with Dora.
Age: Recommended for aged 4 and up
4. Puff, The Magic Dragon by Peter Yarrow and Lenny Lipton
Synopsis:
Puff the Magic Dragon begins with a folk song written by Yarrow and Lipton and famously recorded by Peter, Paul and Mary. In this book, it talks about the magic dragon near the seashore of Honalee. Its is autumn time and a young boy named Jackie Paper and Puff are best of friends and spend hours together frolicking. They have many adventures each day. Peter when he comes to the dragon brings him "treasures" of fancy stuff. They set off on a boat sailing adventure together and have a wonderful time, sailing and running into kings and pirates ships along the way who show honor to them. The story continues stating dragons live forever but little boy grow up and leave for other adventures in life. Puff the magic dragon is sad to see him go. One day after being lonely and sad a new child enters Puff's world and a new adventure starts. The illustrations are beautiful and very detailed, but simple at the same time. The dragon is captured in the illustrations as a friendly dragon children of all ages would want to have adventures with.
With the Music CD, children can listen as the pages turn. A touching story for both young readers to adults.
Peter Yarrow is a renowned folk singer from the folk group PETER, PAUL, & MARY. He believes music "from the folk tradition can bring people together in special ways that reveal how much we truly have in common with one another."
Age: Recommended for aged 3 and up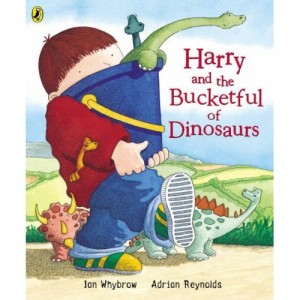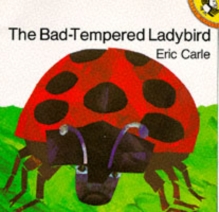 5. Harry and the Bucketful of Dinosaurs by Lan Whybrow and Adrain Reynolds
Synopsis:
Harry finds some dusty old plastic dinosaurs while helping to clean out Nan's attic. He cleans them, finds out their names in the library, and takes them everywhere. Until, one fine day, Harry went on a train ride with Nan and forgot all about the bucket of dinosaurs, left behind on the train. Harry was upset the whole day until Nan brought him to the train station to see the lost property man. The lost property man gets a surprise when Harry proves the dinosaurs are his by calling them over to him.
Harry brought back the dinosaurs from the station, holding the bucket very tightly. Harry loves all these old dinosaurs.
The story is simple for the comprehension of young children. No doubt children will enjoy the story about Harry and his dinosaurs. What's even best is that, the children can share Harry's joy and love for the dinosaurs, with the complimentary bucketful of Dinosaurs that comes with the book!
Age: Recommended for aged 3 and up (younger children may enjoy the book too)
6. The Bad-Tempered Ladybird by Eric Carle
Synopsis:
At the start of the story a friendly ladybird is eating a breakfast of aphids on a leaf, when it is joined by a very bad-tempered ladybird who also wants to eat the aphids, but refuses to share. The bad-tempered ladybird picks fights with every animal he meets, but soon learns the importance of friends and turns into a far nicer, happier bug.
The beautifully illustrated pages of this entertaining book by Eric Carle demonstrate the sizes of the different animals and the sun's path across the sky as time passes. This book would also be excellent for consolidating a child's understanding of time, as at the top of each page it shows a clock face with the time that the bad-tempered ladybird meets each animal.
Age: Recommended for aged 3 and up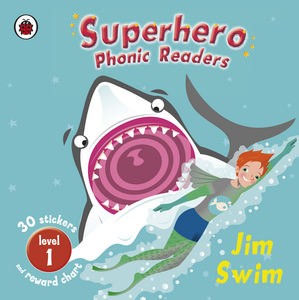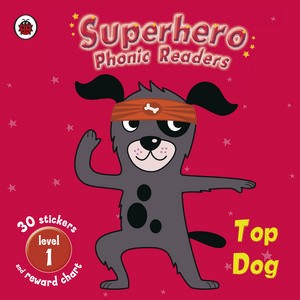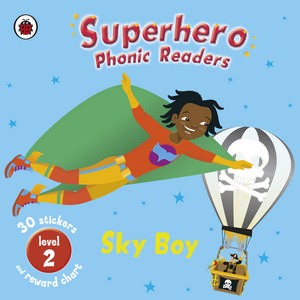 7. Superhero Phonic Readers –
Superhero Phonic Readers are exciting stories for emergent readers to read at home. The series of phonic language progresses in difficulty from book to book. It helps your child learn to read at home and enjoy the art of reading for themselves.
Synopsis:
Book 1: Jim Swim (Level 1)
Jim Swim has an amazing skill. He can swim like a fish!
His special power leads him into plenty of adventures, from rescuing sinking ships to making sure sharks don't get too close to the beach! What kind of adventures will he get into?
Book 2: Top Dog (Level 1)
Top Dog is no ordinary Pup. He has been trained in the way of the ninja.
When the Bite Club Gang steal a lorry full of pet food from the factory, Top Dog is on hand with a flip, chop and a kick to make sure they don't get away! Check out how he will protect and keep the street free from dog crimes!
Book 3: Sky Boy (Level 2)
Sky Boy is a swooping superhero – he can fly like a bird.
When Captain Badman tries to steal a bag of gold from the Air Ship, Sky Boy swoops into action. Can he rescue the gold? Captain Badman had better look out!
This is a great reading book for beginner readers who have been learning synthetic phonics in school. No doubt, it will help your child learn to read at home without contradicting schoolwork. These exciting superhero adventures are ideal for building confidence in learning to read. Special 'Superhero Secrets' puzzle pages help build comprehension skills. The book includes stickers and a reward chart to keep learning fun.
These exciting superhero adventures are ideal for building confidence in learning to read.
Age: Recommended for aged 5 and up (younger children may enjoy the book too)
Giveaway Contest
We have one book of each of the above children book titles to giveaway. Total 7 winners. All you have to do is
1. Join The New Age Parents Mailing List below (existing members need not sign up again)
2. Be a fan of The New Age Parents in Facebook
3. Fill in the form below and indicate your choice of book you would like to win
Closing Date is 18 October 2010.
Terms and Conditions Apply.
If you find this article useful, do click Like and Share at the bottom of the post, thank you.
Want to be heard and seen by over 100,000 parents in Singapore? We can help! Leave your contact here and we'll be in touch.