Children Storybooks Giveaway. Read our Dec Story Book Recommendations and Stand a Chance to Win One of the following books. See end of post for details. Contest ends 20 December 2010!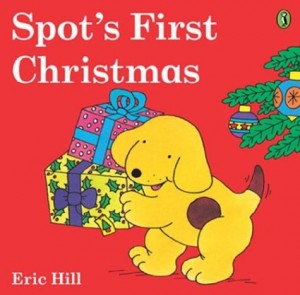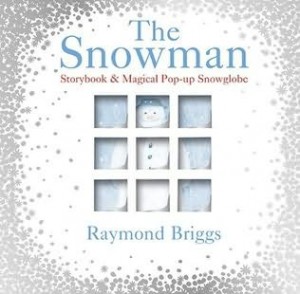 1. Spot's First Christmas by Eric Hill
Synopsis:
Spot Says Goodnight is a children's classic lift-the-flap series that is short and simple for the comprehension of young children. The pages consist of bright and clear illustrations of a cute puppy welcoming his first Christmas, typical of what our little young ones will be excited over – presents! The simple words used will be easy for the young ones to comprehend and yet, engaging for emergent readers. No doubt, the illustrations will keep them occupied and excited over Christmas!
A perfect story to prepare young children for Christmas!
Age: Recommended for ages 2 and up (younger children may enjoy the book too)
2. The Snowman by Raymond Briggs (Storybook & Magical Pop-up Snowglobe)
Synopsis:
The Snowman by Raymond Briggs is a fantastic classic of a young boy's delight when he discovers that it was snowing that day. He builds a snowman only to unfold an awesome and magical adventure that night – The snowman comes to life! The snowman explores the house, amazes with everything he sees. In exchange for the delightful exploration, the snowman brings the boy on an adventure to see the town in a different light. They fly for miles over hills and forests and past the sea before landing back in the garden, safely back at home again. The boy gave the snowman a hug before bidding good night. He wakes up only to discover that the sun was shining brightly in the sky. What is going to happen to the snowman?
This book is a simple and delightful Christmas story to share with all children. Narrated through pictures and simple sentences. No doubt, it captures the innocence and wonder of childhood with its dreamy illustrations. Not to mention that, the snow globe pop up at the end of the story is simply lovely!
Age: Recommended for aged 3 and up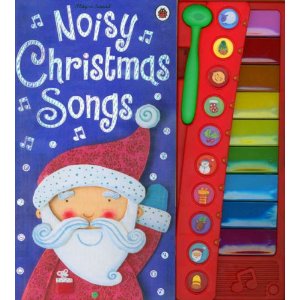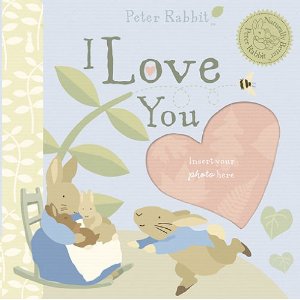 3. Noisy Christmas Songs by Santa and his many helpers (Editor's Note : This book will not be available for the giveaway and will be replaced by NOISY NOISY CHRISTMAS!)
Synopsis:
Noisy Christmas Songs is an amazing musical book that comprises of 10 favourite Christmas Songs. Children can simple sing, dance and play along to the music. This amazing musical Christmas Book comes with a xylophone and a beater to play the tunes. Just press a button and sing along with these songs or simply sing and play along in three different ways – press the sound button to hear the song played; follow the colour-coded music to play the song; or simply follow the notes as they light up on the keyboard.
This book is going to be fun and no doubt NOISY when the children lay their hands on it!
Age: Recommended for aged 2 and up (younger children may enjoy the book too)
4. I Love You by Peter Rabbit
Synopsis:
I Love You is a sweet and personalize board book that features two heart-shaped picture frames that allows us to insert photographs of our loved ones. This book feature simple concepts on love and warm family ties for your young ones. The story is simple for young children to comprehend and the illustrations are soft and beautiful!
Age: Recommended for infants and up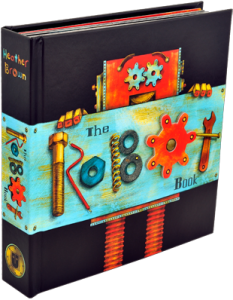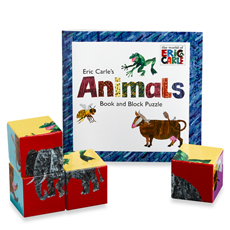 5. The Robot Book by Heather Brown
Synopsis:
The Robot Book is a fun and captivating book for young readers. This book features what are the different hard gears – bolts, screws, cogs, nuts, spinning gears and so forth that makes up a robot! So can you imagine what goes behind the movement of the robot's eyes, mouth, arms and body?
This is an interesting and interactive book that allows children to manipulative with these 'machinery gears' manually. They get to spin and rotate the different gears, The illustration is simple and yet attractive to the readers.
No doubt the children are going to be captivated by the wonders of this book!
Age: Recommended for aged 3 and up
6. Animals by Eric Carle (Book and Block Play)
Synopsis:
Animals is a Eric Carle's signature artwork combined in a sturdy three-in-one set that comes together with a book about animals and interactive blocks and puzzles to go with it. children can read and play together with this book and puzzle set. There are a total of six different animals in the book. As the children meet each of the animal in the book, they can turn the puzzle blocks to match the picture. The color-coded backgrounds and reference pictures printed on the box make the task easier for young children.
This interactive set with a combination of book and puzzle encourages the use of logic, deduction, and early reading skills for a new kind of reading fun!
Age: Recommended for aged 3 and up (younger children may enjoy the book too)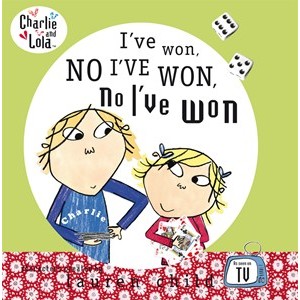 7. Charlie and Lola: I've Won, No I've Won, no I've Won by Lauren Child
Synopsis:
Charlie and Lola: I've Won, No I've Won, no I've Won is based on the original Charlie and Lola stories as seen on television. This book talks about Lola who has to win in every situation – She can run faster than a speedy cheetah, bounce higher than a kangaroo and drink pink milk faster than Charlie. She always says "I've won. I always win…always, always, always!" One day, Charlie thinks up a game that Lola can never win.
A situation that is typical for a family with more than one child. The ending gives a sweet twist for the siblings – you don't have to win all the time! This book comes with a complimentary audio CD set to make reading more fun!
Age: Recommended for ages 3 and up
Giveaway Contest
We have one book of each of the above children book titles to giveaway. Total 7 winners. All you have to do is
1. Join The New Age Parents Mailing List below (existing members need not sign up again)
2. Be a fan of The New Age Parents in Facebook
3. Fill in the form below and indicate your choice of book you would like to win
This Contest is Closed.
Terms and Conditions Apply.
Our Children's Books are reviewed by Crystal
If you find this article useful, do click Like and Share at the bottom of the post, thank you.
Want to be heard and seen by over 100,000 parents in Singapore? We can help! Leave your contact here and we'll be in touch.