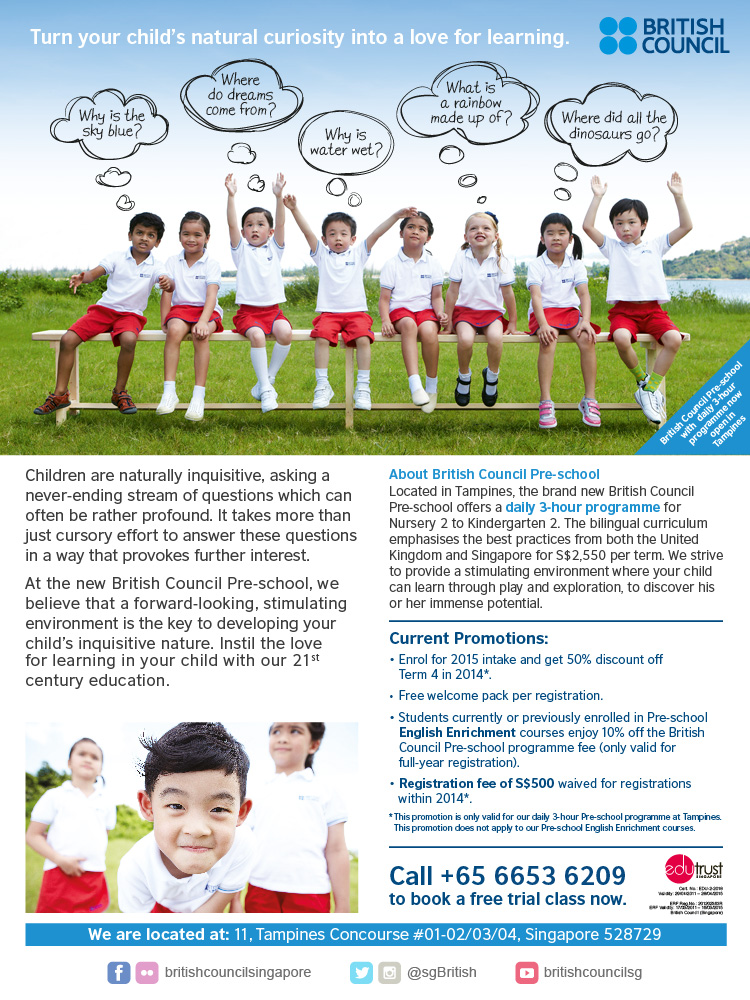 Click here for a larger view.
---
Turn your child's natural curiosity into a love for learning.
Children are naturally inquisitive, asking a never-ending stream of questions which can often be rather profound. it takes more than just cursory effort to answer these questions in a way that provokes further interest.
At the new British Council Pre-school, we believe that a forward-looking, stimulating environment is the key to developing your child's inquisitive nature. Instil the love for learning in your child with our 21st century education.
Current Promotions:
Enrol for 2015 intake and get 50% discount off Term 4 in 2014*.
Free welcome pack per registration.
Students currently or previously enrolled in Pre-school English Enrichment courses enjoy 10% off the British Council Pre-school programme fee (only valid for full-year registration).
Registration fee of S$500 waived for registrations with 2014*.
* This promotion is only valid for our daily 3-hour Pre-school programme at Tampines. This promotion does not apply to our Pre-school English Enrichment courses.
Visit www.britishcouncil.sg for more information or call +65 6653 6209 to book a free trial class now.
We are located at 11 Tampines Concourse #01-02/03/04 Singapore 528729.