As difficult as it may be for most working parents, it's vital for parents to spend some time to bond with their child. Whether it is singing to your baby, getting down on the floor to play pretend with your tot, or read your little one a bed time story, bonding is the process which defines a child and parent relationship. A strong bond is often the foundation for a child's later development.
Bond Baby Bond
Many studies have shown that when there is extensive and meaningful interaction between children and adults in a nurturing and positive environment, children display more exploratory behaviour and better peer relations.
During a study conducted by scientists at the University of Iowa, it was observed that children who had a closer relationship with their parents were less aggressive and had lower occurrences of negative emotional behaviours. Here's an interesting discovery from the study: Researchers observed that even if the child feels intimate or close to only one parent, this would still yield positive behaviour results in the child.
This is the main reason why LEAP SchoolHouse BEC™/WHIZ™ programmes are carried out with full participation from parents; at least one main caregiver or parent has to be in the lessons with their child. "We firmly believe that when children participate actively in meaningful tasks, facilitated by their main caregivers, they learn more effectively."" Esther Lim, CEO of LEAP SchoolHouse adds.
Where Bonding, Experiencing And Creating Meets
Targeted at young children between 8 to 36 months old, the BEC™ programme emphasize on the following areas:
Building on content for knowledge
Learning through routine
Enhancing fine and gross motor skills
Creating meaningful moments of interaction
Literacy through story telling sessions
Creativity and self-expression though song and movements
The programmes is divided into three different phases: Beanies, Explorers and Creators
Budding BEC/WHIZ Beanies™ (8 – 18 months)
An introductory programme, children will roll, tumble, climb, slide, balance, crawl and explore their physicality. This phase focuses on enhancing a child's motor skills and dexterity through structured soft gym-play activities. Basic print concepts with literacy activities will also be infused in the programme. There is also loads of singing and movement so expect loads of wriggles and jiggles in class.
Exciting BEC/WHIZ Explorers™ (18 – 24 months)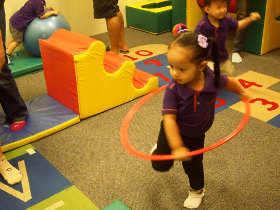 In this programme, children will move on to an intermediate level as they engage in activities to enhance their fine motor skills, such as transferring objects from hand to hand and various eye hand coordination tasks. Basic literacy skills will be covered through a print rich-environment with meaningful thematic links and activities. Of course, there is loads of focus at this stage to work on their communicative and social skills
Clever BEC/WHIZ Creators™ (24 – 36 months)
This advanced BEC programme focuses on integrating literacy skills with meaning making. Children will be exposed to literacy comprehension and understanding.
As early as 24 months, children will be exposed to pre-writing skills and to further enhance their learning, a second language (Mandarin) is built into the lesson structure during this time. For this programme, non-parented assisted classes are available.
For weekend classes, parents can choose to go for the WHIZ™ programme which offers the same learning objectives on a once a week basis.
LEAP TOTS™ Programme
LEAP TOTS™ is a 2.5 hour drop off programme designed for toddlers from 24 to 36 months. Besides adopting a thematic approach, concepts and skills are taught through creative experiential learning moments to encourage independence and scaffold their learning process whilst making self-discoveries. To further encourage language acquisition, children will be immersed in English and Mandarin activities within each lesson.
A One Stop Playcentre For Children Aged 8 – 36 Months Old
Catch your child's window of learning before the age of three! With LEAP PLAYCENTRE™ programmes, your child's psychomotor skills and inquisitive minds will be refined through quality knowledge and exposure from good role models (you, our dear parents) and our trained teachers.
For further information on programme, registration or trial class, contact LEAP SchoolHouse Administration Office at 6634 0828, or log on to www.LEAPSchoolHouse.com.sg
By Esther Lim, CEO and Founder of LEAP SchoolHouse
Born and educated in Singapore, she holds a Master Degree in Education (NTU/NIE), Bachelor Degree in Arts (NTU), Diploma in Marketing – Top student for the year 2000 (Chartered Institute of Marketing). Esther has more than 10 years of teaching experience and has taught widely in both Secondary and Primary schools. She was also involved in curriculum planning and development work for the primary unit at MOE for several years. Esther has also conducted workshops and talks for educators, locally and overseas. Esther is also a mother of three children.

Enjoyed reading this or learned something new? Click the Like and Share button below!