More than 600 begonias, including large begonia blooms grown by Gardens by the Bay, beckon visitors to the specially constructed dome at the "Begonia Brilliance" floral display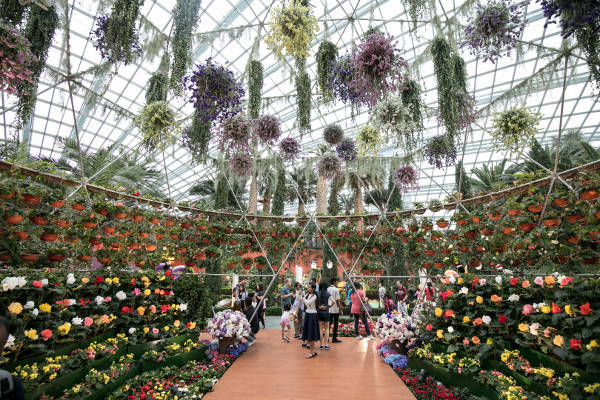 At Gardens by the Bay's first-ever "Begonia Brilliance" floral display, visitors enter a specially-constructed dome brimming with more than 600 begonias in shades of red, pink, orange and yellow.
Among these begonia flowers are unusually large ones grown in-house by Gardens by the Bay's Research and Horticulture team. Most flowering begonias produce blooms about 5cm in diameter, but the ones cultivated by the Gardens have blooms that measure between 13cm and 16cm across.
Andrea Kee, Deputy Director of Research and Horticulture at Gardens by the Bay, said, "Supersized begonias take an enormous amount of care and effort to cultivate. As such, they're generally not easily available and are a rare sight for the public. The 'Begonia Brilliance' floral display is a wonderful opportunity for people to enjoy stunning flowers, and marvel at how nature can be encouraged to blossom to wonderful depths under the careful nurturing of expert horticulturists."
Gardens by the Bay is growing about 5,000 of these large begonias to showcase throughout the floral display. Visitors can see 14 flowering begonia varieties cultivated to have supersized blooms, such as Begonia Prima Donna Blush, which produces flowers with pale pink petals that are rimmed with a darker pink, and Begonia Trumpet Orange, which boasts of bright orange flowers. These gorgeous begonia blooms are complemented by other varieties of flowering begonias from Europe and Malaysia. In all, more than 20,000 begonia plants of more than 50 varieties have been brought in for the floral display.
"Begonia Brilliance" Floral Display
Date: 25 May – 1 July 2018 (Friday – Sunday)
Time: 9am – 9pm
Venue: Flower Dome
Admission Fees: Admission charge to the Flower Dome applies. For more information, visit here. Get your tickets online to enjoy more discounts from Voyagin.
Some begonias are much sought after for their large and stunning flowers, and Gardens by the Bay celebrates the brilliance of begonias with its first-ever floral display showcasing more than 50 varieties with beautiful blooms in a spectrum of reds, oranges and yellows. The showy flowers – some grown by Gardens by the Bay's horticulturists – introduce bursts of bright colour into imaginary worlds such as an undersea realm where octopuses, manta rays and giant clams reign.
Curious To Find Out More?
Pick up a Begonia Brilliance Garden Trail for more interesting information or join us for daily "ASK Me!" tours by our friendly Display Interpreters as they share fascinating botanical facts and anecdotes about the floral display.
Date: 25 May – 1 July 2018 (Friday – Sunday)
Time: Daily at 11am and 3pm (2pm – 5pm on 2, 3 16, 17, 30 June and 1 July)
Details:
Guided tours are free, but admission charge to the Flower Dome applies.
Tours last approximately 15 minutes and are available on a first-come-first-served basis.
To participate, gather at the "ASK Me!" poster near the Flower Field. Tour will begin when a group of five or more visitors is assembled.
Tours will not be conducted on Flower Dome closure dates.
If you find this article useful, do click Like and Share at the bottom of the post, thank you.




Images credit: Gardens by the Bay