Exclusive Screenings of Barney: Big World Adventure – The Movie at Cathay Cineplexes this Year-end School Holidays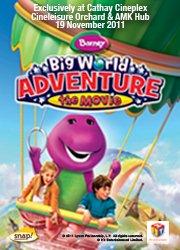 The friendly purple dinosaur takes to the big screen this holiday session from 19 November 2011
With the year-end school holidays around the corner, Cathay Cineplexes is pulling out all the stops to attract the family crowd with its alternative movie offering, Barney: Big World Adventure – The Movie. In the movie, Barney and his friends travel around the world to make new friends and immerse in diverse cultural experiences.
Barney: Big World Adventure – The Movie will be screened exclusively at Cathay Cineplex Cineleisure Orchard and Cathay Cineplex AMK Hub from 19 November 2011, and patrons can get their hands on the movie tickets from as early as 4 November 2011.
To complete the movie-going experience and family outing, patrons can treat all in the family to a Barney Popcorn set which includes one regular popcorn and one Minute Maid Pulpy fruit drink at a promotional price of S$5.80. Children will even get to bring home a pair of Barney kids' shades that is available at S$3 with every popcorn set purchase.
Priced at S$8 per ticket, patrons can go about their bookings via Cathay Cineplexes' e-ticketing site, www.cathaycineplexes.com.sg, over at the box office counters or through Cathay Cineplexes' iPhone application, iCathay.