BALLERINA – IN THEATRES 22 DECEMBER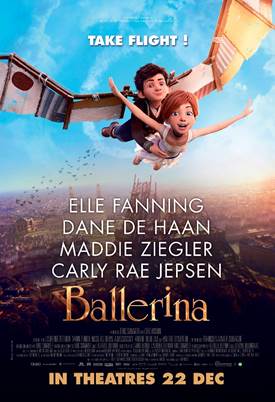 Directed by: Eric Summer and Éric Warin
Starring: Elle Fanning, Dane DeHaan, Maddie Ziegler, Carly Rae Jepsen
Genre: Animation | Adventure | Family
Rating: PG
We are giving away tickets to the preview screening, see end of post for details.
Félicie is a young orphan from Brittany who has only one passion: dance. With her best friend Victor, who wants to become a great inventor, they come up with a madcap scheme to escape their orphanage for Paris, the City of Lights, with its Eiffel Tower still under construction!
Félicie has to fight like she has never fought before, she has to outdo herself and learn from her mistakes to make her craziest dream come true: becoming a prima ballerina at the Paris Opera work which may finally set her free…
---
TNAP is giveaway 5 sets of 4 tickets to the preview screening of the movie Ballerina!
Details of Preview
Date : 19 December, Monday
Venue : Shaw Theatres Lido
Time : 7.30pm
To take part in the giveaway, follow the steps below:
1. Like us on Facebook.
2. Fill in the form:
The giveaway has ended.
3. Like and Share on this facebook post for bonus chance to win.
Contest ends 13 December 2016.
Important notes:
Winners will be notified via phone and email.
Winner will have to self-collect the tickets on the day of show at Shaw Theatres Lido.
Valid for 19 December 2016 7.30 pm show only.
This giveaway is brought to you by Shaw Organisation.
For more contests and giveaways, go to The New Age Parents Contest Page
Terms and Conditions apply. Please also read our Privacy Policy.