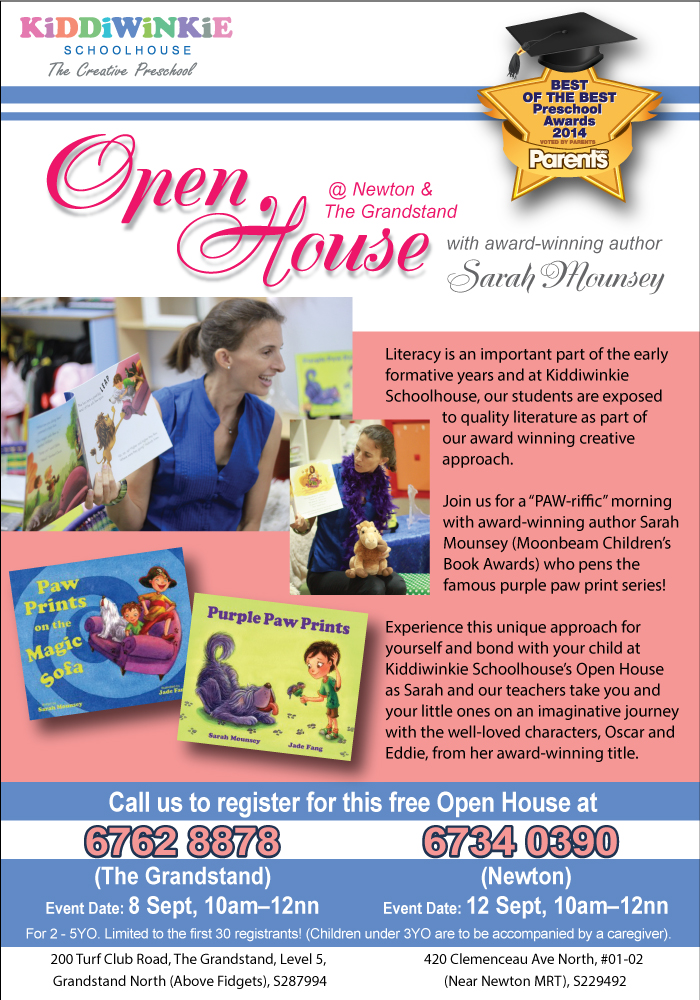 Click here for a larger view.
---
Kiddiwinkie Schoolhouse Open House @ Newton and The Grandstand with award-winning author Sarah Mounsey
Literacy is an important part of the early formative years and at Kiddiwinkie Schoolhouse, our students are exposed to quality literature as part of our award winning creative approach.
Join us for a 'Paw-riffic' morning with award-winning author Sarah Mounsey (Moonbeam Children's Book Award) who pens the famous purple Paw print series!
Experience this unique approach for yourself and bond with your child at Kiddiwinkie Schoolhouse's Open House as Sarah and our teachers take you and your little ones on an imaginative journey with the well-loved characters, Oscar and Eddie, from her award-winning title.
Call us to register for this free Open House at 6762 8878 (The Grandstand) on 8 Sept 10am to 12nn and 6734 0390 (Newton) on 12 Sep 10am to 12nn.
For 2 – 5 YO. Limited to the first 30 registrants (Children under 3YO are to be accompanied by a caregiver)
For more information, visit www.kiddigroup.com.sg