For the students of Odyssey, The Global Preschool understanding the importance of charity and giving back to society begins at the tender age of two.
On 20th August 2011, an exhibition will be held at The Arts House, to sell more than 300 original artworks created by students aged two to six with all proceeds being donated to the Make A Wish Foundation, Singapore.
More Information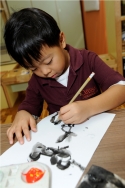 Based on the theme "Sustainability", the children explore their individual interpretations of the topic and display their creativity through a wide array of mediums ranging from print to water colour paintings and even glass art.
The artworks will then be showcased and sold at a day-long, public exhibition titled "Colours of Odyssey – Our footprint. Our future" on Saturday, 20th August at The Arts House (1 Old Parliament Lane).
First started in 2009, the programme is in line with Odyssey's innovative approach to curriculum development and teaching and is aimed at imparting the values of social responsibility and empathy towards other children in our community. It is also closely aligned with the emphasis on developing love and respect for nature in the students and augments other curriculum based activities at the school including gardening and eco-related projects.
This is the third year running that the children of Odyssey will be raising funds to benefit charitable institutions with Make A Wish Foundation being the benficiaries in 2010 as well, and Singapore Children's Society in 2009.
Core Facts
An exhibition titled "

Colours of Odyssey – Our footprint. Our future

" will be held on Saturday, 20th August at The Arts House (1 Old Parliament Lane) from 11.00am to 4.00pm
Preschoolers of Odyssey, The Global Preschool, have created close to 300 artworks to be sold at the exhibition.
The funds raised will go to Make a Wish Foundation Singapore.
The theme of the exhibition is "Sustainability", in line with the school's emphasis on respect for nature and environmental responsibility.
This is the third such exhibition since 2009, and embodies Odyssey's innovative approach to curriculum development and teaching