Art Day Out! – a Gillman Barracks Saturday open house – returns on 24 June for a special School Holidays Edition! Families can look forward to fun-filled art activities for the little ones, in addition to new exhibitions and special programmes around the precinct for adults!

Art Day Out! x The School Holidays Edition
Date: 24 June 2017
Time: 2pm – 7pm
Venue: Gillman Barracks, 9 Lock Road, Singapore 108937
Admission: Free
KEY HIGHLIGHTS AT ART DAY OUT! X THE SCHOOL HOLIDAYS EDITION
Art 'Alive'! By The Finger Players
Art 'Alive'! is a fun and cheeky roving performance by Singapore theatre company The Finger Players that transforms viewers into an active part of the performance, eliciting laughter and joy as well as encouraging participation from spectators as they 'experience' art. The tour dramatises some of the stories and inspirations behind selected artworks that are part of LOCK ROUTE – Gillman Barracks' public art showcase – and also conveys the fleeting, transient qualities of art through the interactivity in the performance. Suitable for children aged 5 and above. Adults are welcome too. [2 sessions at 3.30pm and 5pm. Starting point is at Stephanie J Burt's LOCK ROUTE artwork, 'Tip Me Over And Pour Me Out' at Blk 47 Malan Road. Free admission, no registration required. Suitable for children aged 5 and above. Adults are welcome too!]
Family-friendly Programmes
NTU Centre for Contemporary Art (CCA) Singapore will also be organising a kids' workshop led by artist anGie Seah (Singapore). The Wunder Tribe Workshop explores the idea of "Wunder" and some of the diverse cultures within and around Singapore. Participants will consider how tales are told, invent new personas and characters associated with the ideas of flying, fighting good causes, and feeding the hungry.
Participants will also get to bring home a personalised object shared during a performance at the end of the workshop. [10am – 5pm, To join, please register at NTUCCAEducation@ntu.edu.sg.]
With Art Outreach's 'Art Explorers' programme, the whole family will get to explore the world of public art at Gillman Barracks. Inspired by the public art showcase LOCK ROUTE, drop in on any one of the creative stations and make your own individual artwork inspired by your favourite LOCK ROUTE artwork. [2pm to 7pm. No prior registration is required]
Playeum's Children's Centre for Creativity (Playeum) will offer 20% off ticket prices for its new exhibition, Making It Home. Focusing on dreaming rooms, making spaces and creating places, 'Making It Home' celebrates the home as a source of creativity where children and parents will experience the space within Playeum transform into different 'rooms' to explore, experiment with and redefine. [2pm to 6pm. $22 per child, allows free entry for an accompanying adult.]
There will also be a drop-in workshop titled 'Karang Guni Prints' just outside Playeum, which centres around the idea that commonly discarded everyday materials found in the home can have multiple purposes that support imagination, innovation and sustainability. Explore how simple tools and kitchen utensils can make unique creative prints and designs, and take them home! [2pm to 6pm. Free admission. Suitable for children aged 2 – 12.]
Fuel up with tasty treats at the Hot Rods Edition of Timbre's Saturday Social BBQ where the little ones will be able to live their dream of becoming a race car driver with the remote control car racing! The June edition will feature activities such as bouncy castles, wading pools for toddlers, live BBQ, live music, cold beers and more. [4pm till late.]
Relax and unwind at Handlebar at Gillman Barracks. Enjoy special live "underground music" performances with cold beers, sliders and other signature Handlebar dishes. [6.30pm to 10.30pm.]
Opening of Wallpaper* Handmade-on-Tour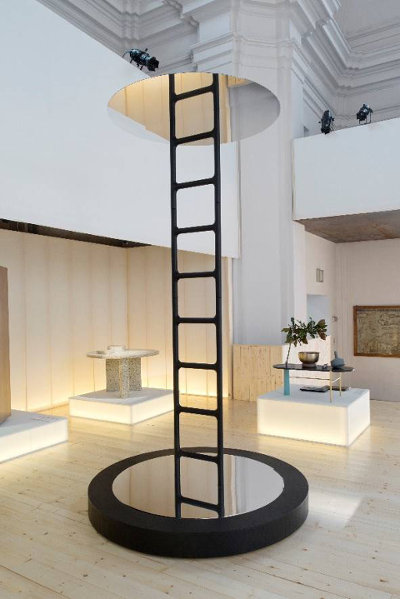 [Pictured: The Portal by Snøhetta, Erik Jørgensen Møbelfabrik and Everything Elevated; Image credit: Wallpaper* Magazine]
The Wallpaper* Handmade Classics: MultipliCITY exhibition debuted during Singapore Design Week 2017 with 16 original, one-off pieces and unique design collaborations from past Handmade exhibitions, created by internationally renowned talents. With new pieces commissioned by Wallpaper* magazine every year, visitors can expect to see more of such design collaborations as the current exhibition refreshes to Wallpaper* Handmade-on-Tour with a distilled collection of 15 new design works from Wallpaper*'s latest annual Handmade exhibition arriving in Singapore fresh from its recent debut in Milan. [The second edition of this exhibition will open on 24 June 2017 and run till 31 October 2017.]
Special screening of 'Taiga. A Journey to Northern Mongolia' by Ulrike Ottinger at the NTU Centre for Contemporary Art (CCA) Singapore
In conjunction with NTU CCA Singapore's recently opened exhibition, Ulrike Ottinger: China. The Arts – The People, there will be a special 8-hour screening of the film 'Taiga. A Journey to Northern Mongolia' to allow the public to experience the work of acclaimed filmmaker Ulrike Ottinger as a full film instead of the divided version installed in the exhibition space. The film depicts the daily life of the Darkhad and Sojon Urinjanghai nomads, as well as their ceremonies such as weddings, festivals and shamanistic practices.
Ottinger portrays characters, sometimes with their families, and documents gatherings, offerings, songs, dances, professions. The camera dwells on the different moments, mostly rendering the scene in real time and conveying a sense of being there. As we accompany the nomads preparing to move to their winter camp, or visit the children on their first day of school, we get familiar not only with the startling landscapes, but most importantly with the way of living of these nomadic peoples, their relationship to each other, to the animals, and to the land.
Supermama Design Mart
Supermama Design Mart is a place where designers, makers and buyers meet, connect and exchange. It is also an opportunity for the aspiring entrepreneurs, the seasoned craftsmen, or anyone with a keen interest in well-made goods to put their minds and hearts out for a time of sharing and merriment, as an avenue for the new breed of designer-producers to be discovered. [2pm to 7pm. Free admission]
ACTIVITIES AND PROGRAMMES AT ART DAY OUT! X THE SCHOOL HOLIDAYS EDITION
Tours, Talks & Workshops
Exhibition tours at NTU CCA Singapore will be led by Khim Ong (in Mandarin), Deputy Director [3pm to 3.30pm. Free admission.] and Syaheedah Iskander (in English), Curatorial Assistant [5pm to 5.30pm. Free admission.].
Join in the artist talk by NTU CCA Singapore Artist-in-Residence Geraldine Kang (Singapore) [3.30pm to 5pm. Free admission.] and an installation presented by Artist-in-Residence Lucy Davis [24 June to 3 September. Free admission.]
Art Outreach will be conducting a talk titled 'Beyond The Price: Understanding The Contemporary Art Market', conducted by Art Outreach Chairman Mae Anderson. Learn about what drives the prices of art, the contemporary art market and the basics of collecting, while enjoying many anecdotes on artists, artworks and the art world. [2.30pm to 4pm. Free admission, registration is required at here]
Presented by Friends of the Museum, the Art & History Tour is for all art enthusiasts looking for a unique encounter with art and a dose of the Barracks' history. [4.30pm to 6pm. Free admission. Registration required here.] In addition, a dedicated History & Heritage Tour will also be running, focusing on the Barracks' evolution from a British military barracks in the 1936 to today's contemporary art cluster. [5pm to 6pm. Free admission. Registration required here.]
New Gallery Exhibitions
Visitors can also check out several new gallery exhibitions opening in conjunction with this Art Day Out!:
Fost Gallery will be presenting the solo exhibition of paintings by Vietnamese artist Phi Phi Oanh, titled Make Shift.
Yeo Workshop will be presenting a group exhibition featuring contemporary artefacts, comprising painting, photography and sculpture by Mike HJ Chang, Merryn Trevethan, Xue Mu, and Filippo Sciascia, titled Apertures. There will also be an Artist Talk featuring Mike HJ Chang and Filippo Sciascia at the gallery from 12pm to 2pm.
Yavuz Gallery will open its inaugural group sculpture exhibition featuring four artists from Thailand and Myanmar: Pinaree Sanpitak, Thasnai Sethaseree, Utai Nopsiri and Soe Yu New, titled Sculptured Vol.1.
For updates and details on the event, please visit our Facebook page:
For more info on Gillman Barracks, please visit here