Hear from Founder of MindChamps. Mr. David Chiem on preparing your child for the future!
Complimentary Talk
Date: 9 September 2017
Time: 10am to 1pm
Venue: Professor Snyder Theatre, MindChamps HQ
HDB Hub East Wing Level 17, 480 Lor 6 Toa Payoh
Note: Admission for parents only
Reserve a seat now www.mindchamps.org/curriculum-talk!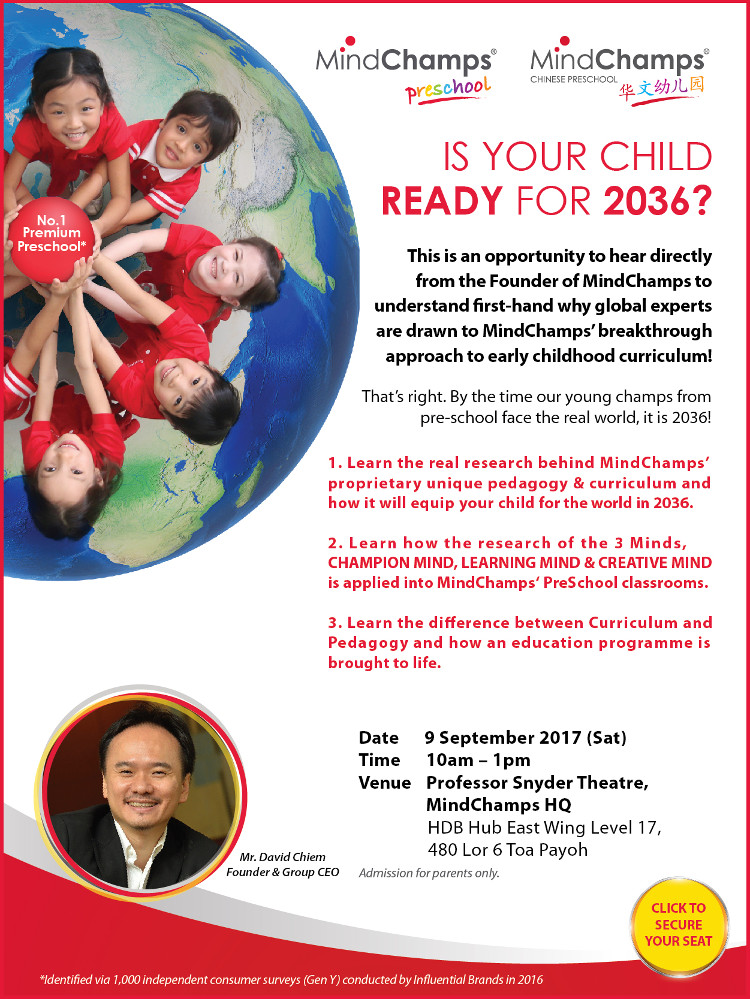 This an opportunity to hear directly from the Founder of MindChamps to understand first-hand why global experts are drawn to MindChamps' breakthrough approach to early childhood curriculum!
That's right. By the time our young champs from PreSchool face the real world, it is 2036!
Learn the real research behind MindChamps' proprietary unique pedagogy & curriculum and how it will equip them for the world in 2036.
Learn how the research of the 3-Minds, CHAMPION MIND, LEARNING MIND & CREATIVE MIND is applied into MindChamps' PreSchool classrooms.
Learn the difference between Curriculum and Pedagogy and how an education programme is brought to life.
Visit www.mindchamps.org/curriculum-talk to secure your seat now!