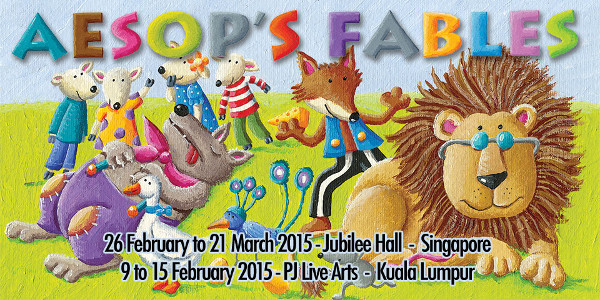 Date: 26 February to 21 March 2015
Venue: Jubilee Hall, Raffles Hotel
I Theatre presents a fun-filled musical extravaganza! Greek Storyteller Aesop collected together 665 fables dating back 2,600 years, and we have chosen around 8 of the best to present to you.
Don't expect the usual fare. We will be turning the art of storytelling on its head to lead the audience through the lives, lunches and misadventures of a truly miss-matched band of scruffy, silly and sometimes stubborn creatures, as they slowly and painfully learn life's little wisdoms, and bigger secrets.
You may recognise some of the fables we are presenting, but some may be less familiar to you! Do you know The Jay And The Peacock? Or Androcles And The Lion? Maybe you know the story of The Lion And The Mouse, or The Goose Who Laid Golden Eggs?
Recognising our audience, we have carefully chosen each story not only for its fun and entertaining aspects, but also the valuable lesson it teaches.
This brilliantly imaginative piece of theatre not only includes a series of catchy songs but also some magical transformation of props into characters. We have an impressive line-up of skilled actors last seen in I Theatre's previous productions such as Ant and The Grasshopper, Grimm's Fairytales and Puss in Boots.
So we encourage you to join our band of quirky, curious creatures as they learn life's little wisdoms, and bigger secrets, with a mixture of fun, excitement and silliness. You are sure to be tickled, teased and turned around by this amusing collection of fabulous fables – however old, or young you are!
Ticket Sales Open (Singapore) 29 October 2014
Early Bird Special: 10% Discount 29 October 2014 to 16 January 2015
Get your tickets today via Sistic outlets www.sistic.com.sg/events/fables0315