My Gym Rivervalley
My Gym, an International reputable brand, originated from in Los Angeles with more than 300 outlets around 30 countries. Established since 1983 with more than 30 years of experience in children's fitness.
Our new outlet in the Central area; My Gym at Rivervalley is a 3000 sq ft indoor facility that ensures each child's development is stimulated in a visually colourful and safe environment. We offer structured, age-appropriate, weekly classes that incorporate music, dance, relays, games, special rides, gymnastics, sports and more.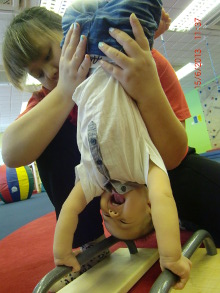 At My Gym Rivervalley, we follow the extraordinary program and provide facilities devised to help children 6 months thru 10 years of age develop physically, cognitively and emotionally, and are customised across five age groups: Waddlers (6 months – 17 months), Gymster (18 months – 2.5 years), Terrific Tots (2.5 – 5 years), Whiz Kids (5 – 8 years) and Cardio Kids (7 – 10 years).
To help children transit from home to school, My Gym Rivervalley also provides a 2 hour independent Playgroup program. A fun-packed programme which provides an opportunity for chidren between 18 months to 3.5 years to develop and learn through structured and free play. We aim to increase each child's competence in all developmental area and build on the child's interest in learning.
Our facilities, programs and services empower youngsters by helping them acquire the skills, confidence and positive self-image needed to become healthy young adults.
At My Gym Rivervalley, we are committed to nurturing children, treating them with understanding and positive reinforcement, maintaining a supportive and non-competitive atmosphere, and making learning fun and exciting.
Interaction with our highly trained staff provides children the opportunity to establish warm relationships with compassionate adults, thus raising their level of comfort as they begin preschool/kindergarten.
Our state-of-the-art facility, extensively trained staff, award-winning class programs, and excellent student/teacher ratio have earned My Gym the reputation as the best early learning program of its kind.
Why choose My Gym
• The unique MY GYM programming
Love, patience, unyielding positive support, age-appropriate ingredients and self-esteem-building activities are the basic principles of the MY GYM experience. Our program is designed in a way that nurtures a child's natural ability, curiosity and creativity.
We emphasize on small student-to-teacher ratio to provide individual attention and positive reinforcement.
• Award WINNING program
MY GYM's having won US Parents' Choice Awards time and again demonstrates that families recognize the value of our innovative programming structure that has their children going from one exciting ingredient to another.
Our stimulating program elements are time tested, constantly analyzed and determined to be the optimal approach to build skill, confidence and a positive relationship with physical activity.
• The MY GYM state-of-the-art facility and ever-changing
Our custom-made equipment, and our philosophy of constant change. Fun, variety and excitement are crucial elements in motivating youngsters, and MY GYM keeps interest levels high with our constantly changing equipment and gym configuration.
Each week, when our members come for their class, they find a completely different gym setup and participate in a new class program. The children are fascinated as they explore their brand new setting and are truly energized by their new activities. MY GYM students have a unique experience with every visit, and they love it!
Email: rivervalley@mygym.com.sg
Tel: 67335168
Facebook: www.facebook.com/MyGymRivervalley
Address: 30 Mohamed Sultan Road, #05-00, Lam Ann Building, Singapore 238974 (Opposite Robertson Walk)

Leave a Comment: