Hess Education Centre
Hess Education Centre has experience in teaching languages to young learners in Asia since 1983. The Hess Publishing team of 50 researchers and writers design and improve the curriculum based on feedback from parents, teachers and students to insure the highest standard is maintained. Hess' curriculum is matched with current educational ideology.
At Hess Education Centre students learn to read through both sight words and phonics. Not only do students learn to read proficiently but thematic books are read to practice reading comprehension. The programmes create confidence through a variety of games and activities and positive rewards.
Hess teachers are graduates and need to undergo a rigid selection and training process. Lessons are planned with the understanding of the concept of 'multiple intelligences'. Each of us learns in a different way, whether we need to read, listen to others, touch, experiment, be physical or discuss the concept. Hess is successful because of our focus on each individual learner.
At Hess Education Centre, expat teachers guide students through an exciting programme, which is designed to go beyond the MOE required objectives to create proficient readers, writers and speakers. The classes are designed to help students achieve at school and beyond!
Bilingual Play Group (English & Mandarin) (18months to 3 years old)
Vocabulary, Sentences, Phonics, Pre-writing, Fine and Gross Motor-Skill Development Numbers and Counting, Social Skills, Arts & Crafts, Music & Movement, Stories, Songs & Nursery Rhymes, Confidence
Nursery 1 & Nursery 2 Enrichment (English or Mandarin)
Speaking, Basic Reading (phonics and sight words), Writing, Speech & Drama, Comprehension and Confidence
Kindergarten Enrichment (English or Mandarin)
PRIMARY PREPARATION: Reading (phonics, sight words and comprehension), Writing (formal and creative sentences), Spelling, Grammar, Speech & Drama, Comprehension
Primary Enrichment (English or Mandarin)
Accelerated Reading, Grammar, Public Speaking, Writing, Spelling, Creative Writing and Reading Comprehension Development
Primary Creative Writing (English or Mandarin)
Brainstorming Skills, Grammar, Editing, Reading, Reading Appreciation, Public Speaking, Presentation Skills, Creative Thinking, Critical Thought, Styles of Writing
Holiday Programmes (English and Mandarin) Nursery, Kindergarten and Primary
Reading, writing and speaking, speech & drama and creative activities
Primary: focus on Reading Comprehension and Creative Writing
"Our goals are simple, we wish to provide affordable English and Mandarin enrichment in a comfortable environment, taught by experienced and fun expat teachers who care about individual needs."
Jeanette Buckley, Principal of Hess Education Centre in Singapore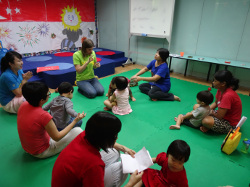 Programme Principles
Individualized Learning
Cooperation instead of Competition
Story-Based Learning
Holistic Assessment
Whole Language Learning
Child-Centered Approach
Integrated Learning
Total Immersion
Hands-On Experiential Learning
Quality Reading vs Quantity Reading
Website: www.hess.com.sg
Tel: 6333-6915
Fax: 6333-6912
Address: 140 East Coast Road, Singapore 428830 (from 5 May 2014)
Here's what our parents have to say:
Aisyah (Kindergarten 2)
Keep up the good work. I like the 'less commercial' environment. Thumbs up! Materials and programmes for the K2 are far more progressive when compared to other enrichment centres. We are very pleased with the dedicated Admin staff and teachers. Theme parties are great. It helps in cultivating interest in education. Aisyah always looks forward to attend Hess weekly.
Chiron Cheng (Kindergarten 2)
Chiron is now very chatty and has a higher level of confidence. Teacher Tim is great, he understands and encourages Chiron all the time. Lorraine and Mira are very caring and attentive to our needs and concerns. Overall, a great place.
Daniel Choi's mum (Kindergarten 2)
We find the one week holiday programmes amazing. It is like accelerated learning. Daniel can learn a song or remember a lesson in one week, whereas it would take a whole term for him to pick it up in a normal kindergarten.
Damien's mum (Play Group and Nursery Enrichment)
I really like the materials from Hess. The illustrations and characters really attract me and my boy. Damien now speaks confidently in both Mandarin and English. The warm up session in Play Group involving the parents boosted his social skills. He just loves the journey with Hess.
Thomas (Nursery) & Winnie (Creative Writing)
I love the environment here. It's so bright and interesting and increases my children's willingness to come for classes. The service attitude of the Admin Staff is 'ichiban'! Very Good!
Ariel's mum (Nursery)
Ariel has improved from a quiet girl to a more out-spoken girl. Good job Teacher Lara! All staff from the school is very close and supportive, can tell that Ariel enjoys her lesson in Hess and she looks forward to her Sunday class every week.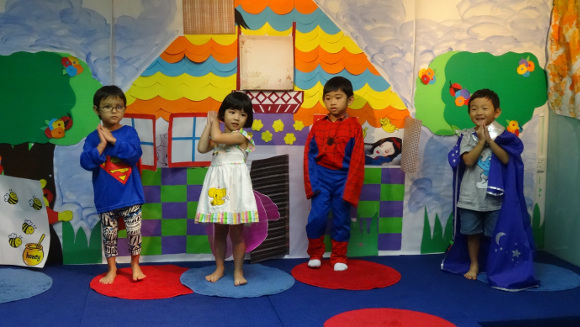 Leave a Comment: