Childbirth Odyssey
HypnoBirthing® – The Mongan Method is a childbirth education that based on the philosophy of natural birth. During HypnoBirthing® Childbirth Classes, women and their birth companions are taught techniques for achieving a relax, safe and stress-free method of birthing through a series of simple self-hypnosis, deep relaxation, breathing techniques. Women learn to call upon their body's own relaxant and hence block pain that due to fear. Fear is no longer an issue and it is replaced with confidence, consciousness, empowerment and enjoyment in every stage of childbirth.
HypnoBirthing prepares expectant woman and her birth companion a positive mindset and pre-birth parenting skills emphasizing what babies want from womb to birth.
Read more about HypnoBirthing here.
HypnoBirthing Childbirth Classes – Group or Private

Five consecutive weeks of 2½ hours each class on Saturday 2:30pm
Including HypnoBirthing textbook and CD set, Rainbow Relaxation CD and class handouts.
Continuous support through baby's first year of life by phone and email
Small group size – $495 per couple
Private class at the comfort of your own home is available
Preconception Cleansing:
Preconception cleansing is the 1st step in providing the optimum nurturing environment for your baby, a smooth pregnancy and birth. The health of the newborn is determined by the primal period. Read more here
Birth Plan Consultation
Not enough time to attend classes? Attend a 2-hr Birth Planning, where you will explore your right, your options at birth, the role of care givers and other birth supports available, helps define what birth you desire through going through each phase of the laboring process. For enquiries, please contact Yen here.
Birth Support – Need extra support during birth
Nervous and not knowing what to expect during labor and birth? Doula acts as an emotional tranquilizer. Woman supports woman at birth as she has been through childbirth or a trained birth professional who is familiar with the hospital procedure and birth process. She supports expectant mom and her partner in various area including emotional support, provide information on childbirth and reassurance throughout the labor and birthing process. Read more here
About the Instructor
Kong Choon Yen is a Certified HypnoBirthing Childbirth Educator affiliated with the HypnoBirthing® Institute and a training Doula with Childbirth International. She was inspired by the way HypnoBirthing brought confidence and empowering experience to her during her second birth (Hypno-Waterbirth). Hence, she is passionate in spreading the skills to other expectants. Yen is also a Health Crusader helping couples to prepare their bodies for conception and advocate natural home remedies a holistic living.
Website: www.ChildbirthOdyssey.com
Facebook: www.facebook.com/childbirthodyssey
Email: cykong123@gmail.com
Tel: 98637867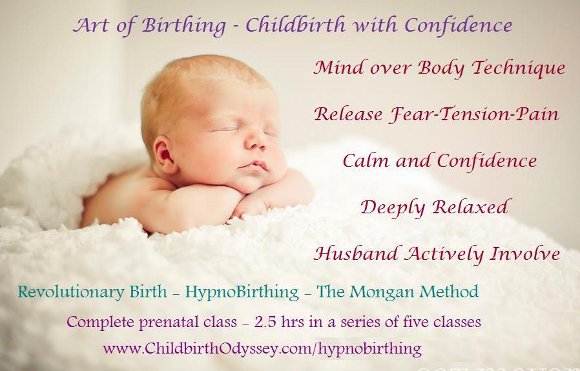 Leave a Comment: