Country:

Zip Code:

Listed:

July 31, 2019 4:12 pm

Expires:

This ad has expired
Amazing Castle
Amazing Castle is a new interactive entertainment concept which comes from Russia. The air-conditioned indoor playspace has 9 different stations combining traditional arcade games and classic playground mechanics with a modern technological twist that will have kids excited to the max!
Dragon tower
Has your child ever wanted to become a knight in shining armour? Now is the chance!
Imagine being enclosed in a carousel, quickly running and jumping on a soft foamy treadmill trying your best to duck under the head and jump over the tail to dodge a fire-breathing dragon.
Freeze!!!
Life-sized board game meets disco dance floor! The objective is to step across the blocks by memorising which steps were lit up.
Perfect for practising toddler attention and coordination skills!
IQ Basketball
Master your hand-eye coordination by shooting hoops! Answer questions by throwing balls into particular baskets! Fun for everyone!
Seventh Heaven
Seventh Heaven lets you dive into a huge sea of plastic balls, where the challenge is to race from corner to corner to activate game buttons when they flash green.
This is not your regular plastic ball pit! You will need to use all of your body strength to move quickly from one side to the other! It will be quiet the workout!
Burning Surfer
Get ready for some nostalgia! Your favourite 16-bit Space Invaders are back!
Burning Surfer doesn't have any joysticks and handheld controllers, but instead, it has a giant see-saw platform to control the game's movements instead.
Teamwork definitely is key here! You will claim victory if you and your friends and family dash from side to side strategically, tilting the see-saw to find just the right spot!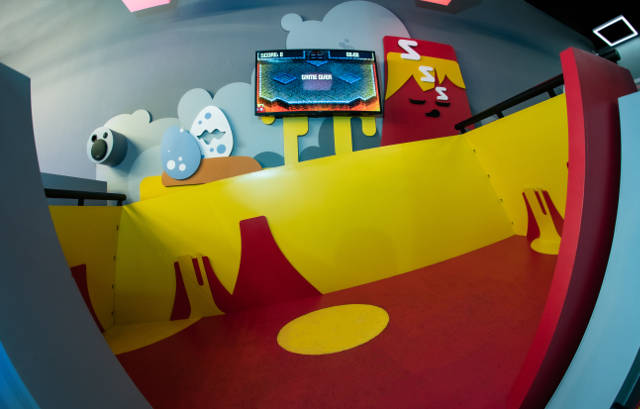 Scream
Perfect for kids and adults that have a never-ending supply of energy!
All you have to do in Scream is scream at the top of your lungs into the soundproofed pod. The louder the scream, the better chance you have of snatching to number 1 spot on the leader board!
Magic Pyramid
This game requires teamwork! Perfect for bonding with kids! Wait till the lights perfectly align with each other, and push the button to lock it in. Fine-tune your high-speed reflexes in Magic Pyramid!
Shoot The Goblin
Knockdown the goblins by shooting balls at them! A family favourite sure to make everyone scream with joy!
Goons
A simple game that parents and kids will love – challenge your reflexes by hitting the target buttons when they light up! The game starts off easy but speeds up with every touch of the button!
Amazing Castle is fun for all ages! It's perfect for spending the day with the family and promoting teamwork all the while creating incredible happy memories…and also wearing out even the most energetic of kids!
Website: amazingcastle.sg
Email: info@amazingcastle.sg
Leave a Comment: