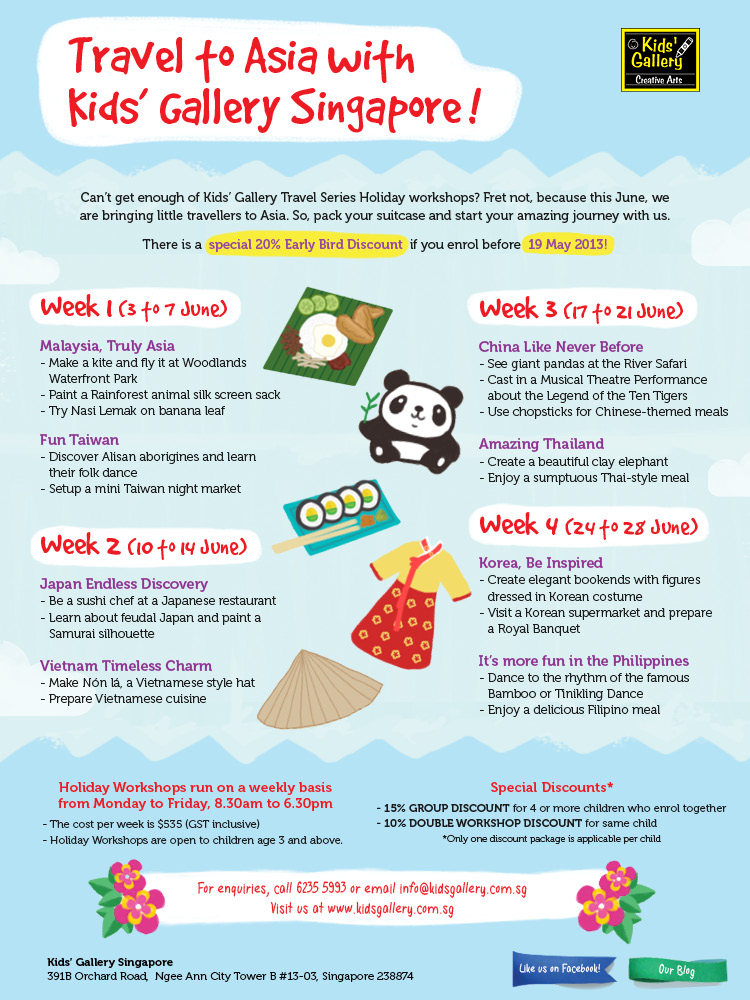 Click here for a larger view.
---
Travel to Asia with Kids' Gallery Singapore!
Can't get enough of Kids' Gallery Travel Series Holiday workshops? Fret not, because this June, we are bringing little travellers to Asia. So, pack your suitcase and start your amazing journey with us. There is a special 20% Early Bird Discount if you enrol before 19 May 2013!
Week 1 (3 to 7 June)
Malaysia, Truly Asia
Fun Taiwan
Week 2 (10 to 14 June)
Japan Endless Discovery
Vietnam Timeless Charm
Week 3 (17 to 21 June)
China Like Never Before
Amazing Thailand
Week 4 (24 to 28 June)
Korea, Be inspired
It's more fun in the Philippines
Holiday Workshops run on a weekly basis from Monday to Friday, 8.30am to 6.30pm.
The cost per week is $535 (GST inclusive)
Holiday Workshops are open to children age 3 and above
Special Discounts*
15% Group Discount for 4 or more children who enrol together
10% Double Workshop discount for the same child
* Only one discount package is applicable per child
For enquiries, call 6235 5993 or email info@kidsgallery.com.sg. Visit us at www.kidsgallery.com.sg. Like us on Facebook too.
Kids' Gallery Singapore
391B Orchard Road, Ngee Ann City Tower B #13-03 Singapore 238874