The next Biggest Grandest Baby Fair will be happening at Marina Bay Sands from 17 Feb to 19 Feb 2017!
SuperMom is the Largest Parenting Movement in Singapore & is made for parents-to-be and parents with newborns who want the best deals, expert advice & community support.
In August 2016, SuperMom Baby Fair featured over 200 exhibitors, 8,000 brands and 50,000 essential products for pregnancy and baby's early year. The event also hosted the largest SuperMom Pregnancy Summit which saw renowned local and international experts who shared insights, tips & tricks on pregnancy related topics to over 1,000 attendees
SuperMom Baby Fair 2017 will be an even bigger & better event! Bringing parents the Best Variety, Great Experience & Hard-to-beat Prices! And this time, we will be at Marina Bay Sands, Singapore!
If you are a parent expecting a baby or planning a family, SuperMom's Biggest Grandest Baby Fair is the place for you!
Fri-Sat: 11am-9pm, Sun: 11am-8pm. For more info, visit http://babyfair.supermom.com.sg.
Share this with your friends & loved ones on Facebook & remember to join our Facebook Event page so that you can be updated of the latest deals & offers on all your baby necessities!
---
FREE $5 SuperMom Voucher To Use At The First Baby Fair Ever Held At Marina Bay Sands!
Supermom – Biggest Grandest Baby Fair in Asia (17 – 19 Feb 2017) at Marina Bay Sands MBS. Free $5 Supermom voucher* with this Promo Code: NAP5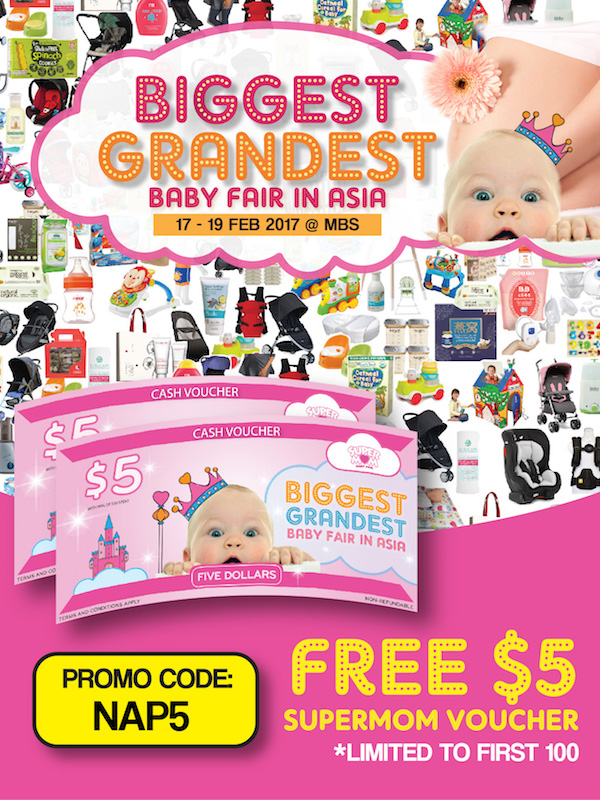 * limited to first 100.