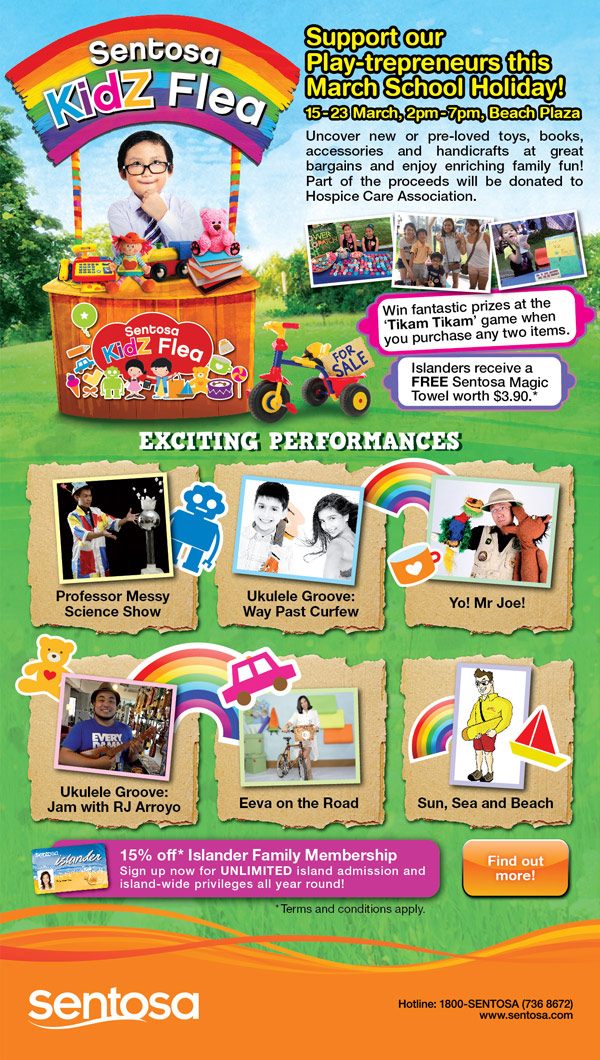 Support our Play-trepreneurs this March School Holiday!
15-23 March, 2pm-7pm, Beach Plaza
Uncover new or pre-loved toys, books, accessories and handicrafts at great bargains and enjoy enriching family fun! Part of the proceeds will be donated to Hospice Care Association.
Win fantastic prizes at the 'Tikam Tikam' game when you purchase any two i tems.
Islanders receive a FREE Sentosa Magic Towel worth $3.90.*
Website: www.sentosa.com
---
Calling all bargain hunters and flea market lovers! Enter a market place where kids have the final say in everything! Support the Play-trepreneurs aged between 7 and 12 years old at the Sentosa KidZ Flea this March Holidays. Returning for the third year, Sentosa KidZ Flea provides a marketplace for Play-trepreneurs to sell toys and books, handmade accessories or provide customised services like manicure and face painting.
Watch the Play-trepreneurs as they become mini "Donald Trumps" by displaying business skills such as managing finances, product display, customer service and negotiation skills that they have learnt in a special two-hour training session. They will also be contributing to society by donating part of their proceeds to the event's adopted charity, Hospice Care Association.
Bernice Tang, 11 years old, stall owner of Cheap-N-Deal from last year's Sentosa KidZ Flea said, "The event is really fun and I think that earning money is not easy. When I grow up, I will strive to earn lots of money!"
Something new this year, the Play-trepreneurs will act as ambassadors to promote beach and water safety. Learn interesting tips from them on how to keep yourself safe while enjoying your day out at the beach!
Guests of all ages are welcome to visit the Sentosa KidZ Flea! The buzzing flea market will also keep everyone entertained with themed performances from entertaining science magic shows to ukulele performances! The children will be fascinated with the wonderful world of science interlaced with magic, yet the fun and laughter never stops!
Shop, learn, and give back to society all in one place – now that's what I call a good bargain!
Sentosa KidZ Flea 2014 Details:
Date: 15th to 23rd March 2014
Time: 2pm to 7pm
Venue: Beach Plaza and Beach Station
Event Admission: Free (excludes island admission and parking charges)
Enquiries: 1800-SENTOSA (7368672)
* Play-trepreneur is derived from 'Play' and 'Entrepreneur'; the young entrepreneurs get to enjoy some playtime while running their little businesses on Sentosa.
For more information, visit www.sentosakidzflea.com