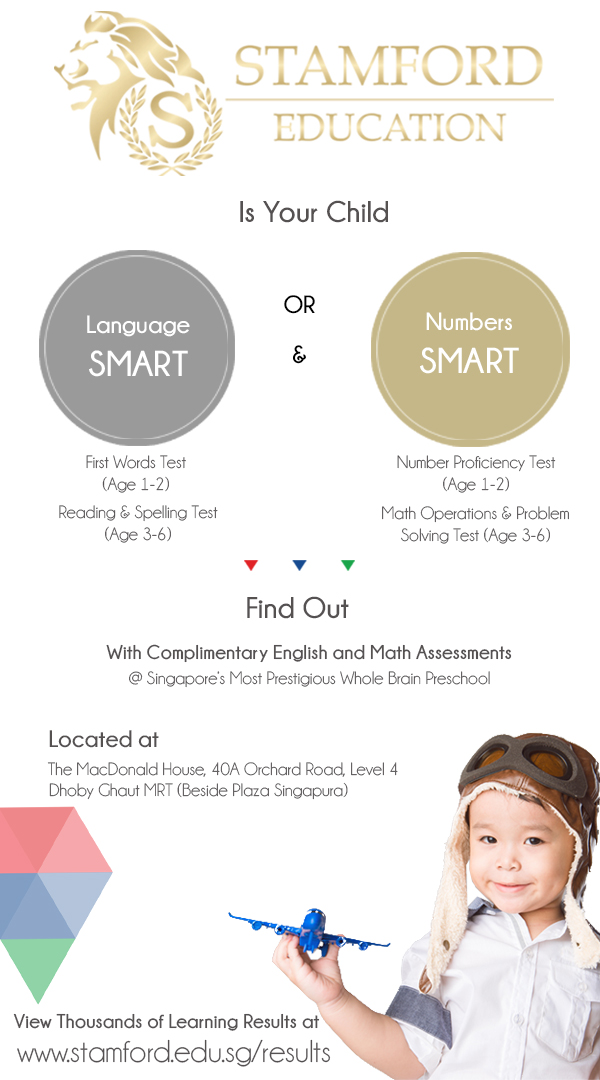 SMART PARENTS, SMARTER KIDS
At what ages do SMART children start reading?
Is your child Language Smart, Numbers Smart or both?
Is your child prepared for Primary 1?
Get the answers at the STAMFORD OPEN HOUSE along with fun family activities and Complimentary English and Math Assessments.
For independent children, the STAMFORD OPEN HOUSE also features plenty of fun with children treadmills, twisters, obstacle courses and IQ puzzles. All activities are carefully crafted with first class learning material imported from the US, Canada, Germany, the University of Oxford and more. Register Now!
Get SMART with Stamford Education
If you are good, PROVE IT
Stamford Education is the only Education Brand in Singapore that showcases THOUSANDS of Amazing Results from our students on our home page.
Our Stamford Children read the Straits Times, perform Mental Calculations and display Great Characters before they go to Primary School.
Our Children
Visit www.stamford.edu.sg/results, Click into each child's learning profile and witness their amazing results. Learn More.
Assess your Child's ENGLISH & MATH Abilities
When you visit a bookstore, there are books that range from first words suitable for a 1 year old and short stories meant for 6 year olds.
But these may be international titles that are not customized to help you assess your child's abilities based on Singapore's standards.
This is why Stamford Education has designed a series of fun assessments that assess your child's language and math abilities – from your 1 year old's first words reading ability to a your 6 year old's spelling ability heading into Primary 1. Learn More!
STAMFORD EDUCATION is proud to be the Official Assessment Partner of